myometrium
Also found in:
Dictionary
,
Thesaurus
,
Encyclopedia
,
Wikipedia
.
myometrium
[

mi″o-me´tre-um

]

the smooth muscle coat of the uterus. adj.,

adj

myome´trial.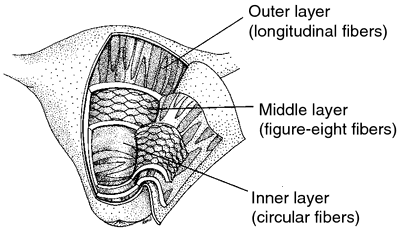 Miller-Keane Encyclopedia and Dictionary of Medicine, Nursing, and Allied Health, Seventh Edition. © 2003 by Saunders, an imprint of Elsevier, Inc. All rights reserved.
my·o·me·tri·um
(

mī'ō-mē'trē-ŭm

), [TA]

The muscular wall of the uterus.

[myo- + G. mētra, uterus]

Farlex Partner Medical Dictionary © Farlex 2012
myometrium
The muscular layer of the uterus which is contained between the endometrium and the serosa of the uterus.

Diseases of
Adenomyosis, leiomyoma (fibroma), adenomatoid tumour, leiomyosarcoma

Segen's Medical Dictionary. © 2012 Farlex, Inc. All rights reserved.
my·o·me·tri·um
(

mī'ō-mē'trē-ŭm

) [TA]

The muscular wall of the uterus.

[myo- + G. mētra, uterus]

Medical Dictionary for the Health Professions and Nursing © Farlex 2012
myometrium
The muscle wall of the womb (uterus).

Collins Dictionary of Medicine © Robert M. Youngson 2004, 2005
myometrium
the muscular wall of the UTERUS.

Collins Dictionary of Biology, 3rd ed. © W. G. Hale, V. A. Saunders, J. P. Margham 2005