keratotomy
(redirected from multiple punctate keratotomy)
Also found in:
Dictionary
,
Thesaurus
.
keratotomy
[

ker″ah-tot´ah-me

]

incision of the cornea.

radial keratotomy

an operation in which a series of incisions is made in the cornea from its outer edge toward its center in a spokelike fashion; done to flatten the cornea and thus to correct myopia.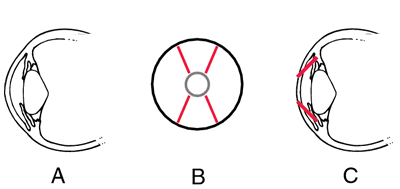 Miller-Keane Encyclopedia and Dictionary of Medicine, Nursing, and Allied Health, Seventh Edition. © 2003 by Saunders, an imprint of Elsevier, Inc. All rights reserved.
ker·a·tot·o·my
(

ker'ă-tot'ŏ-mē

),

1. Any incision through the cornea.

2. An operation making a partial thickness incision into the cornea to flatten it and reduce its refractive power in that meridian.

[kerato- + G. tomē, incision]

Farlex Partner Medical Dictionary © Farlex 2012
keratotomy
(kĕr′ə-tŏt′ə-mē)
n.
pl.
keratoto·mies
Surgical incision of the cornea.
The American Heritage® Medical Dictionary Copyright © 2007, 2004 by Houghton Mifflin Company. Published by Houghton Mifflin Company. All rights reserved.
keratotomy
A surgical incision in the cornea. See Radial keratotomy.

McGraw-Hill Concise Dictionary of Modern Medicine. © 2002 by The McGraw-Hill Companies, Inc.
ker·a·tot·o·my
(

ker'ă-tot'ŏ-mē

)

1. Any incision through the cornea.

2. An operation making a partial thickness incision into the cornea to flatten it and reduce its refractive power in that meridian.

[kerato- + G. tomē, incision]

Medical Dictionary for the Health Professions and Nursing © Farlex 2012
keratotomy
Any surgical cut (incision) into the cornea. Radial keratotomy is an operation purporting to reduce short-sight (MYOPIA) by inducing scarring to flatted the cornea. Eight or more deep radial cuts are made. The operation is of dubious propriety and is being replaced by less crude methods.

Collins Dictionary of Medicine © Robert M. Youngson 2004, 2005