mitral atresia
Also found in:
Dictionary
,
Thesaurus
,
Encyclopedia
.
atresia
[

ah-tre´zhah

]

congenital absence or closure of a normal body opening or tubular structure; see also

obstruction

. adj.,

adj

atret´ic.

aortic atresia

2.

absence or closure of the

aortic

orifice

, a rare congenital anomaly in which the left ventricle is hypoplastic, so that oxygenated blood passes from the left into the right atrium through a septal defect, and the mixed venous and arterial blood passes from the pulmonary artery to the aorta by way of a

patent ductus arteriosus

.

aural atresia absence of closure of the auditory canal.

biliary atresia congenital obliteration or hypoplasia of one or more components of the bile ducts, resulting in persistent jaundice and liver damage.

choanal atresia blockage of the posterior nares. When the blockage is bilateral in a newborn, it produces acute respiratory distress because neonates are nose-breathers. Diagnosis is confirmed if a catheter cannot be passed through the nares. Until surgery is done to relieve the obstruction, insertion of an airway may be necessary.

esophageal atresia congenital lack of continuity of the esophagus, commonly accompanied by tracheoesophageal fistula, and characterized by accumulations of mucus in the nasopharynx, gagging, vomiting when fed, cyanosis, and dyspnea. Treatment should begin with suction of the upper esophageal pouch, followed by surgical repair by esophageal anastomosis and division of the fistula as soon as the infant's general condition permits.

follicular atresia (atresia folli´culi) the normal death of the ovarian follicle when unfertilized.

laryngeal atresia congenital lack of the normal opening into the larynx.

prepyloric atresia

congenital membranous obstruction of the gastric outlet, characterized by vomiting of gastric contents only. Called also

pyloric atresia

.

tricuspid atresia

absence of the

tricuspid

orifice

, circulation being made possible by an

atrial septal defect

.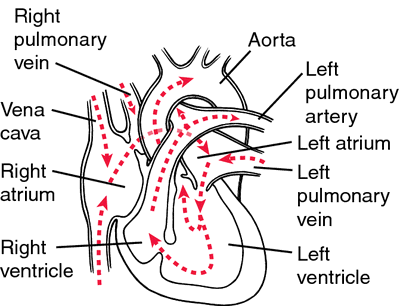 urethral atresia imperforation of the urethra.
Miller-Keane Encyclopedia and Dictionary of Medicine, Nursing, and Allied Health, Seventh Edition. © 2003 by Saunders, an imprint of Elsevier, Inc. All rights reserved.
mi·tral a·tre·si·a
(

mī'trăl ă-trē'zē-ă

)

Congenital absence of the mitral valve between the left atrium and left ventricle, usually associated with transposition of the great vessels or hypoplastic left heart syndrome.

[L. mitra, turban, + G. a, priv. + trēsis, perforation]

Medical Dictionary for the Health Professions and Nursing © Farlex 2012
mitral atresia
Congenital closure of the mitral valve opening between the left atrium and ventricle.
Medical Dictionary, © 2009 Farlex and Partners