microfilaria
Also found in:
Dictionary
,
Acronyms
,
Encyclopedia
,
Wikipedia
.
microfilaria
[

mi″kro-fĭ-lar″e-ah

]

the prelarval stage of Filarioidea in the blood of humans and in the tissues of the vector. This term is sometimes incorrectly used as a genus name, and is then spelled with a capital M.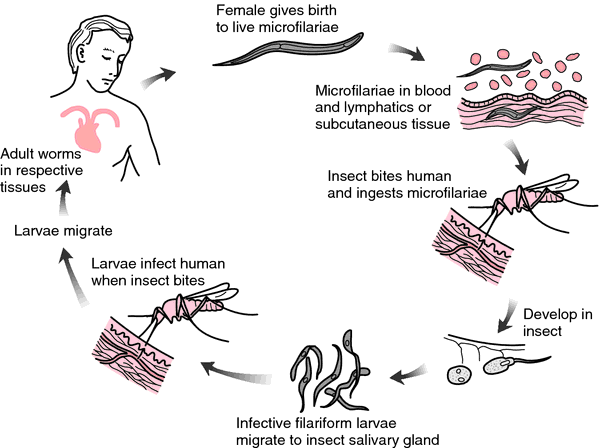 Miller-Keane Encyclopedia and Dictionary of Medicine, Nursing, and Allied Health, Seventh Edition. © 2003 by Saunders, an imprint of Elsevier, Inc. All rights reserved.
mi·cro·fi·lar·i·a
, pl.
mi·cro·fi·lar·i·ae
(

mī'krō-fi-lar'ē-ă, -ē

),

Term for embryos of filarial nematodes in the family Onchocercidae. In the past this term has been used as a generic designation (for example,

Microfilaria bancrofti

,

M. malaya

). See:

Filaria

.

Farlex Partner Medical Dictionary © Farlex 2012
microfilaria
(mī′krə-fə-lâr′ē-ə)
n.
pl.
microfilar·iae
(-ē-ē′)
The minute larval form of a filarial worm.
---
mi′cro·fi·lar′i·al adj.
The American Heritage® Medical Dictionary Copyright © 2007, 2004 by Houghton Mifflin Company. Published by Houghton Mifflin Company. All rights reserved.
microfilaria
The prelarval progeny of parasitic nematodes of the superfamily Filarioidea, family Onchocercidae, which measure 200–300 µm in length, 5–7 µm in diameter, and inhabit lymphatic channels.
 
Diagnosis
Microfilaria are distinguished by the pattern of nematode sheath and arrangement of nuclei.

Microfilaria vectors
• Brugia malayi—Mosquito.
• Dracunculiasis medinensis—Copepod (nematode).
• Loa loa—Tabanid fly.
• Mansonella perstans—Midges.
• Onchocerca volvulus—Black fly.
• Wuchereria bancrofti—Mosquito.

Segen's Medical Dictionary. © 2012 Farlex, Inc. All rights reserved.
mi·cro·fi·lar·i·a
, pl. microfilariae (

mī'krō-fi-lar'ē-ă, -ē

)

Term for embryos of filarial nematodes in the family Onchocercidae.

See:

Filaria

Medical Dictionary for the Health Professions and Nursing © Farlex 2012
microfilaria
The microscopic embryonic forms of various nematode worms that parasitize humans and animals. Microfilaria circulate in their millions in the blood and in the lymph vessels of people suffering from FILARIASIS. When taken up by a blood-sucking insect, microfilaria mature into the larval form of the worm within the body of the insect.

Collins Dictionary of Medicine © Robert M. Youngson 2004, 2005