assay
(redirected from microcytotoxicity assay)
Also found in:
Dictionary
,
Thesaurus
,
Legal
,
Financial
,
Encyclopedia
.
assay
[

as´a

]

determination of the purity of a substance or the amount of any particular constituent of a mixture.

biological assay bioassay; determination of the potency of a drug or other substance by comparing the effects it has on animals with those of a reference standard.

CH50 assay a test of total complement activity as the capacity of serum to lyse a standard preparation of sheep red blood cells coated with antisheep erythrocyte antibody. The reciprocal of the dilution of serum that lyses 50 per cent of the erythrocytes is the whole complement titer in CH50 units per milliliter of serum.

enzyme-linked immunosorbent assay

(ELISA) any enzyme

immunoassay

using an enzyme-labeled

immunoreactant

(antigen or antibody) and an

immunoadsorbent

(antigen or antibody bound to a solid support). A variety of methods are used for measuring the unknown concentration, such as either competitive binding between the labeled reactant and unlabeled unknown or a sandwich technique in which the unknown antigen binds both the immunoadsorbent and labeled antibody. One of the uses of ELISA is to screen blood for antibody to the

human immunodeficiency

virus

; a positive result indicates probable exposure to the virus and possibly that the virus is in the blood. Since false-positives can occur, a back-up test is used to confirm positive findings.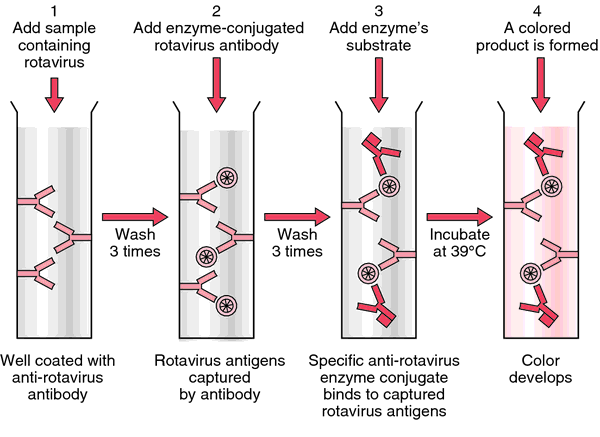 microhemagglutination assay–Treponema pallidum
(MHA-TP) a
Treponema pallidum
hemagglutination assay using microtechniques; used in the detection of syphilis.
radioreceptor assay a radioligand assay in which a radiolabeled hormone is used to measure the concentration of specific cellular receptors for the hormone in tissue specimens, an example being radioassay of estrogen receptors in breast tissue.
Treponema pallidum hemagglutination assay
(TPHA) a treponemal antigen serologic test for
syphilis
using tanned sheep red blood cells coated with antigen from the Nichol's strain of
Treponema pallidum
and treated patient serum; it is similar in sensitivity and specificity to the FTA-ABS test. This test is not useful for individuals who have had
syphilis
in the past.
Miller-Keane Encyclopedia and Dictionary of Medicine, Nursing, and Allied Health, Seventh Edition. © 2003 by Saunders, an imprint of Elsevier, Inc. All rights reserved.
as·say
(

as'sā, ă-sā'

),

1. The quantitative or qualitative evaluation of a substance for impurities, toxicity, or other characteristics; the results of such an evaluation.

2. To examine; to subject to analysis.

3. Test of purity; trial.

[M.E., fr. O.Fr. essaier, fr. L.L. exagium, a weighing]

Farlex Partner Medical Dictionary © Farlex 2012
assay
A quantitative or qualitative procedure for detecting the presence, estimating the concentration, and/or determining the biological activity* of a macromolecule (e.g., an antibody or antigen, molecule, ion, cell, pathogen, etc.). Assays are based on measurable parameters that allow differentiation between sample and control. Biological assays (not to be confused with animal testing for drug efficacy and safety) are of historic interest, as they are cumbersome, difficult to quantify and rarely provide information that is not obtainable by other testing formats.

Segen's Medical Dictionary. © 2012 Farlex, Inc. All rights reserved.
assay
Lab medicine The quantification of a substance of interest by a specific chemical, enzymatic, immunologic or radioimmune-mediated reaction

McGraw-Hill Concise Dictionary of Modern Medicine. © 2002 by The McGraw-Hill Companies, Inc.
as·say
(

as'ā

)

1. To examine or analyze.

2. A test of the biologic potency of something (e.g., medicine).

[M.E., fr. O.Fr. essaier, fr. L.L. exagium, a weighing]

Medical Dictionary for the Health Professions and Nursing © Farlex 2012
assay
Qualitative or quantitative analysis of a substance such as a drug.

Collins Dictionary of Medicine © Robert M. Youngson 2004, 2005
Assay
An analysis of the chemical composition or strength of a substance.
Gale Encyclopedia of Medicine. Copyright 2008 The Gale Group, Inc. All rights reserved.
as·say
(

as'ā

)

1. The quantitative or qualitative evaluation of a substance for impurities, toxicity, or other characteristics; the results of such an evaluation.

2. To examine; to subject to analysis.

3. Test of purity; trial.

[M.E., fr. O.Fr. essaier, fr. L.L. exagium, a weighing]

Medical Dictionary for the Dental Professions © Farlex 2012