denture
(redirected from metal base denture)
Also found in:
Dictionary
,
Thesaurus
,
Encyclopedia
.
denture
[

den´cher

]

a complement of teeth, either natural or artificial; ordinarily used to designate an artificial replacement for the natural teeth and adjacent tissues.

complete denture an appliance replacing all the teeth of one jaw, as well as associated structures of the jaw.

fixed partial denture

a

partial

denture

held in position by attachments to adjacent prepared natural teeth, roots, or implants; called also

bridge

.

implant denture

an artificial denture or single tooth retained and stabilized by a framework or post implanted in the bone.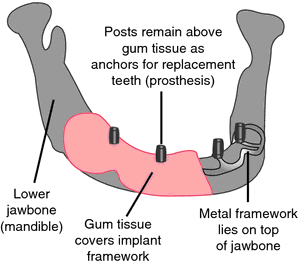 overlay denture a complete denture supported both by soft tissue (mucosa) and by a few remaining natural teeth that have been altered, as by insertion of a long or short coping, to permit the denture to fit over them.
partial denture
a dental appliance that replaces one or more missing teeth, receiving support and retention from underlying tissues and some or all of the remaining teeth; it may be either permanently attached or removable. See
fixed partial

denture
and
removable partial

denture
.
removable partial denture
a
partial

denture
made so that it can readily be removed from the mouth.
Miller-Keane Encyclopedia and Dictionary of Medicine, Nursing, and Allied Health, Seventh Edition. © 2003 by Saunders, an imprint of Elsevier, Inc. All rights reserved.
den·ture
(

dent'chūr

),

1.

An artificial substitute for missing natural teeth and adjacent tissues. Synonym(s):

artificial dentition

2. Sometimes used to denote the dentition of animals.

Farlex Partner Medical Dictionary © Farlex 2012
denture
(dĕn′chər)
n.
1. A partial or complete set of artificial teeth for either the upper or lower jaw. Also called dental plate.
2. often dentures A complete set of removable artificial teeth for both jaws.
The American Heritage® Medical Dictionary Copyright © 2007, 2004 by Houghton Mifflin Company. Published by Houghton Mifflin Company. All rights reserved.
den·ture
(

den'chŭr

)

An artificial substitute for missing natural teeth and adjacent tissues; sometimes used to denote the dentition of animals.

Medical Dictionary for the Health Professions and Nursing © Farlex 2012
den·ture
(

den'chŭr

)

An artificial substitute for missing natural teeth and adjacent tissues.

Synonym(s):

artificial dentition

.

Medical Dictionary for the Dental Professions © Farlex 2012