menstrual
Also found in:
Dictionary
,
Thesaurus
,
Encyclopedia
,
Wikipedia
.
menstrual
[

men´stroo-al

]

menstrual cycle

the regularly recurring physiologic changes in the

endometrium

that culminate in its shedding (

menstruation

). Menstrual cycles vary in length, with the average being about 28 days. The length of time of menstrual flow is also variable, with an average of about 5 days. Women menstruate from

puberty

to

menopause

, except during pregnancy. The first 14 days of the cycle are called the

follicular phase;

a

follicle

containing an

ovum

is developing in one of the

ovaries

. It begins as the menstrual flow ceases; the lining of the uterus is stimulated by

estrogen

and begins to increase in thickness to prepare for the possibility of

reproduction

. On the twelfth or thirteenth day of the cycle, the

ovulatory phase

begins with a surge in levels of

luteinizing

hormone

and

follicle-stimulating

hormone

;

ovulation

then takes place and the

ovary

discharges the

ovum

. The ruptured follicle is transformed into a yellowish material called the

corpus luteum

; the

luteal phase

begins as the

corpus luteum

secretes

progesterone

. Progesterone acts on the

endometrium

, building up tissues with an enriched supply of blood to nourish the future embryo. If

fertilization

and

conception

do not take place, the

estrogen

level in the blood falls, the

endometrium

is no longer stimulated, and the uterus again becomes thinner. Blood circulation slows, blood vessels contract, and the

menstrual phase

begins; unused tissue breaks down into the bloody discharge known as

menstruation

. The cycle then starts again.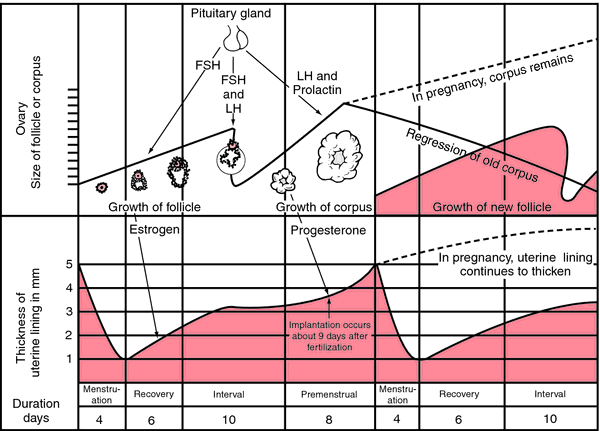 Miller-Keane Encyclopedia and Dictionary of Medicine, Nursing, and Allied Health, Seventh Edition. © 2003 by Saunders, an imprint of Elsevier, Inc. All rights reserved.
men·stru·al
(

men'strū-ăl

), Avoid the misspelling/mispronunciation

menstral

.

Relating to the menses.

[L. menstrualis]

Farlex Partner Medical Dictionary © Farlex 2012
menstrual
(mĕn′stro͞o-əl)

also
menstruous
(-əs)
adj.
1. Of or relating to menstruation.
2.
a. Taking place on a monthly basis.
b. Lasting for one month.
The American Heritage® Medical Dictionary Copyright © 2007, 2004 by Houghton Mifflin Company. Published by Houghton Mifflin Company. All rights reserved.
menstrual
adjective Referring to menstruation, see there.

Segen's Medical Dictionary. © 2012 Farlex, Inc. All rights reserved.
men·stru·al
(

men'strū-ăl

)

Relating to the menses.

Synonym(s):

emmenic

.

[L. menstrualis]

Medical Dictionary for the Health Professions and Nursing © Farlex 2012