medial forebrain bundle
Also found in:
Dictionary
,
Thesaurus
,
Legal
,
Financial
,
Acronyms
,
Encyclopedia
,
Wikipedia
.
bundle
[

bun´d'l

]

fundamental bundle (ground bundle) that part of the white matter of the spinal cord bordering the gray matter and containing fibers that travel for a distance of only a few segments of the cord.

bundle of His

a band of cardiac

muscle

fibers

connecting the atria with the ventricles of the heart; called also

atrioventricular bundle

.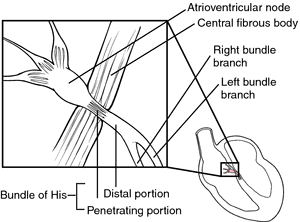 medial forebrain bundle
a group of
nerve

fibers
connecting the midbrain tegmentum and elements of the limbic system.
Thorel's bundle
a bundle of
muscle

fibers
in the human heart connecting the sinoatrial and atrioventricular nodes.
Miller-Keane Encyclopedia and Dictionary of Medicine, Nursing, and Allied Health, Seventh Edition. © 2003 by Saunders, an imprint of Elsevier, Inc. All rights reserved.
me·di·al fore·brain bun·dle
[TA]

a fiber system coursing longitudinally through the lateral zone (area) of the hypothalamus, connecting the latter reciprocally with the midbrain tegmentum and with various components of the limbic system; it also carries fibers from cell groups containing norepinephrine and serotonin in the brainstem to the hypothalamus and cerebral cortex, as well as dopamine-carrying fibers from the substantia nigra to the caudate nucleus and putamen.

Farlex Partner Medical Dictionary © Farlex 2012
me·di·al fore·brain bun·dle
(

mē'dē-ăl fōr'brān bŭn'dĕl

) [TA]

A fiber system coursing longitudinally through the lateral zone of the hypothalamus, connecting the latter reciprocally with the midbrain tegmentum and with various components of the limbic system; it also carries fibers from norepinephrine-containing and serotonin-containing cell groups in the brainstem to the hypothalamus and cerebral cortex, as well as dopamine-carrying fibers from the substantia nigra to the caudate nucleus and putamen.

Medical Dictionary for the Health Professions and Nursing © Farlex 2012