magnesium hydroxide
Also found in:
Dictionary
,
Thesaurus
,
Encyclopedia
,
Wikipedia
.
magnesium
(Mg) [

mag-ne´ze-um

]

a chemical element, atomic number 12, atomic weight 24.312. (See Appendix 6.) Its salts are essential in nutrition, being required for the activity of many enzymes, especially those concerned with

oxidative

phosphorylation

. It is found in the intra- and extracellular fluids and is excreted in urine and feces. The normal serum level is approximately 2 mEq/L. Magnesium deficiency causes irritability of the nervous system with tetany, vasodilation, convulsions, tremors, depression, and psychotic behavior.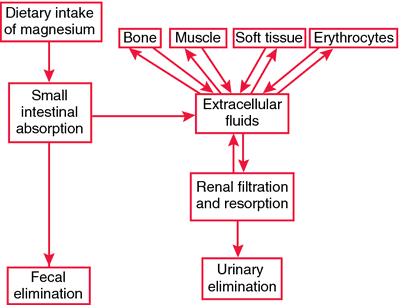 magnesium citrate
a saline
laxative
used for bowel evacuation before diagnostic procedures or surgery of the colon; administered orally.
magnesium silicate
MgSiO
3
, a silicate salt of magnesium; the most common hydrated forms found in nature are
asbestos
and
talc
.
magnesium hydroxide
n.
A white powder, Mg(OH)2, used as an antacid and laxative.
magnesium hydroxide
An antacid and laxative drug. The drug is on the WHO official list. Brand names of preparations containing it are Diovol, Maalox, Mucaine and Mucogel.