lipping
Also found in:
Dictionary
,
Thesaurus
,
Idioms
,
Encyclopedia
.
lipping
[

lip´ing

]

1. a wedge-shaped shadow in the radiograph of chondrosarcoma between the cortex and the elevated periosteum.

2.

the development of a bony overgrowth in osteoarthritis; see illustration.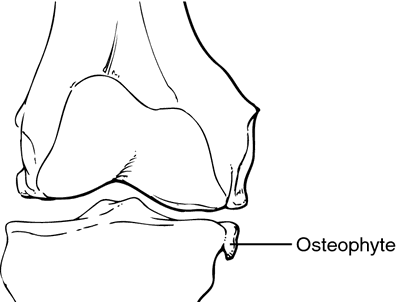 Miller-Keane Encyclopedia and Dictionary of Medicine, Nursing, and Allied Health, Seventh Edition. © 2003 by Saunders, an imprint of Elsevier, Inc. All rights reserved.
lip·ping
(

lip'ing

),

The formation of a liplike structure, as at the articular end of a bone in osteoarthritis.

Farlex Partner Medical Dictionary © Farlex 2012
bone spur
A small osteophyte seen at the margin of a joint's articular surface.

Aetiology
Local inflammation—e.g., degerative arthritis, tendinitis—followed by calcification.
 
Clinical findings
Asymptomatic or pain, numbness and tenderness.

Segen's Medical Dictionary. © 2012 Farlex, Inc. All rights reserved.
lip·ping
(

lip'ing

)

The formation of a liplike structure, as at the articular end of a bone in osteoarthritis.

Medical Dictionary for the Health Professions and Nursing © Farlex 2012
lipping
The formation of a curled edge at the bearing joint surface of a bone in OSTEOARTHRITIS and other degenerative bone disease.

Collins Dictionary of Medicine © Robert M. Youngson 2004, 2005