lipectomy
(redirected from lipectomies)
Also found in:
Dictionary
,
Thesaurus
.
lipectomy
[

lĭ-pek´to-me

]

excision of a mass of subcutaneous adipose tissue.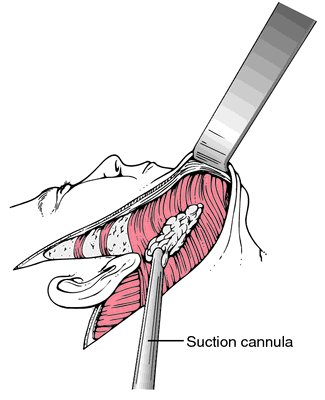 Miller-Keane Encyclopedia and Dictionary of Medicine, Nursing, and Allied Health, Seventh Edition. © 2003 by Saunders, an imprint of Elsevier, Inc. All rights reserved.
lip·ec·to·my
(

lip-ek'tŏ-mē

),

Surgical removal of fatty tissue, as in cases of adiposity.

[lipo- + G. ektomē, excision]

Farlex Partner Medical Dictionary © Farlex 2012
lipectomy
(lĭ-pĕk′tə-mē, lī-)
n.
pl.
lipecto·mies
Surgical excision of subcutaneous fatty tissue.
The American Heritage® Medical Dictionary Copyright © 2007, 2004 by Houghton Mifflin Company. Published by Houghton Mifflin Company. All rights reserved.
lipectomy
Cosmetic surgery Removal of fat. See Abdominal lipectomy, Liposuction.

McGraw-Hill Concise Dictionary of Modern Medicine. © 2002 by The McGraw-Hill Companies, Inc.
lip·ec·to·my
(

lip-ek'tŏ-mē

)

Surgical removal of fatty tissue, as in cases of adiposity.

[lipo- + G. ektomē, excision]

Medical Dictionary for the Health Professions and Nursing © Farlex 2012
lipectomy
Fat removal, usually by suction. A form of cosmetic plastic surgery designed to improve body contours. Small incisions are made in the skin and a blunt-ended metal sucker is passed through and moved around under the skin to suck out fat cells. Human frailty being what it is, the effect is usually temporary.

Collins Dictionary of Medicine © Robert M. Youngson 2004, 2005