koilonychia
Also found in:
Encyclopedia
,
Wikipedia
.
koilonychia
[

koi″lo-nik´e-ah

]

dystrophy of the nails in which they are abnormally thin and concave from side to side, with the edges turned up.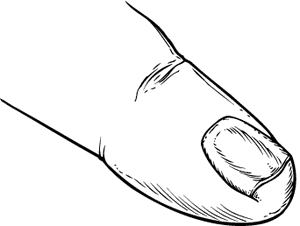 Miller-Keane Encyclopedia and Dictionary of Medicine, Nursing, and Allied Health, Seventh Edition. © 2003 by Saunders, an imprint of Elsevier, Inc. All rights reserved.
koi·lo·nych·i·a
(

koy'lō-nik'ē-ă

),

A malformation of the nails in which the outer surface is concave; often associated with iron deficiency or softening by occupational contact with oils.

[G. koilos, hollow, + onyx (onych-), nail]

Farlex Partner Medical Dictionary © Farlex 2012
spoon nail
A rare acquired nail dystrophy seen in bronchiectasis in which the nail bed undergoes atrophy and the nail acquires a central concavity.

Segen's Medical Dictionary. © 2012 Farlex, Inc. All rights reserved.
koi·lo·nych·i·a
(

koy'lō-nik'ē-ă

)

A malformation of the nails in which the outer surface is concave; often associated with iron deficiency or softening by occupational contact with oils.

Synonym(s):

spoon nail

.

[G. koilos, hollow, + onyx (onych-), nail]

Medical Dictionary for the Health Professions and Nursing © Farlex 2012
koilonychia
Thin, brittle, concave fingernails. This may result from iron deficiency ANAEMIA or injury to the nail bed. Koilonychia also occurs in the itchy skin disease LICHEN PLANUS and in the rare inherited condition dystrophic epidermolysis bullosa. From the Greek koilos , concave or hollow and onyx , a finger or toenail.

Collins Dictionary of Medicine © Robert M. Youngson 2004, 2005