jugular veins
Also found in:
Dictionary
,
Thesaurus
,
Encyclopedia
,
Wikipedia
.
jugular
[

jug´u-lar

]

3. a jugular vein.

jugular veins

large veins that return blood to the heart from the head and neck; each side of the neck has two jugular veins, external and internal. The external jugular carries blood from the face, neck, and scalp and has two branches, posterior and anterior. The internal jugular vein receives blood from the brain, the deeper tissues of the neck and the interior of the skull. The external jugular vein empties into the subclavian vein, and the internal jugular vein joins it to form the brachiocephalic vein, which carries the blood to the superior vena cava, where it continues to the heart. If one of these veins is severed, rapid loss of blood will result and air may enter the circulatory system. In such a case, a compress should be applied to the wound with pressure. See anatomic Table of Veins in the Appendices and see color plates.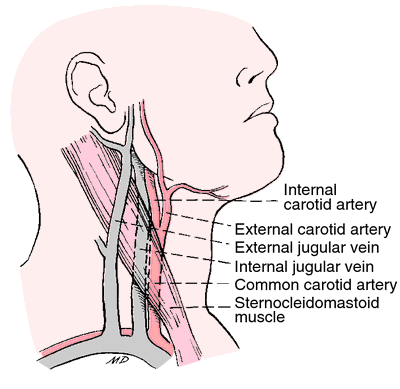 an·te·ri·or jug·u·lar vein
[TA]

vein that arises below the chin from veins draining the lower lip and mental region, descends in the anterior portion of the neck, coursing either superficial or deep to the investing cervical fascia to terminate in the external jugular vein at the lateral border of the scalenus anterior muscle.
jugular veins
The six main veins-the right and left internal and external jugulars and the front anterior jugulars-that run down the front and side of the neck, carrying blood back to the heart from the head. The internal jugulars are very large trunks containing blood at low pressure. The external and anterior jugulars are much smaller.
jugular
1. pertaining to the neck.
2. one of the jugular veins.
---
jugular furrow
the groove on each side of the neck in which the jugular vein can be located. Lies dorsal to the trachea.
jugular inlet
the depression at the base of the neck where the jugular vein passes medial to the first rib. Examination of the inlet is valuable because it is possible to determine the activity and efficiency of the right atrium and the patency of the jugular vein by observing the movements of the vein's wall.
jugular vein engorgement
is a clinical indicator of obstruction to the return of blood to the right atrium, e.g. because of congestive heart failure or space-occupying lesion in the anterior thorax.
jugular veins
two pairs of large veins, internal and external, that return blood to the heart from the head and neck.