jugular
(redirected from jugular furrow)
Also found in:
Dictionary
,
Thesaurus
,
Encyclopedia
.
jugular
[

jug´u-lar

]

3. a jugular vein.

jugular veins

large veins that return blood to the heart from the head and neck; each side of the neck has two jugular veins, external and internal. The external jugular carries blood from the face, neck, and scalp and has two branches, posterior and anterior. The internal jugular vein receives blood from the brain, the deeper tissues of the neck and the interior of the skull. The external jugular vein empties into the subclavian vein, and the internal jugular vein joins it to form the brachiocephalic vein, which carries the blood to the superior vena cava, where it continues to the heart. If one of these veins is severed, rapid loss of blood will result and air may enter the circulatory system. In such a case, a compress should be applied to the wound with pressure. See anatomic Table of Veins in the Appendices and see color plates.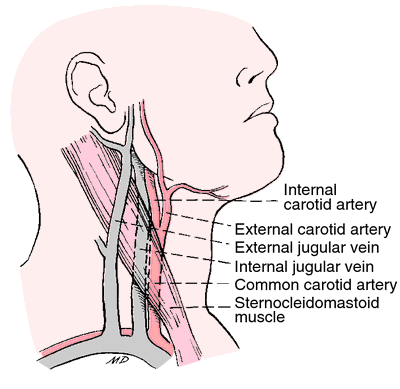 Miller-Keane Encyclopedia and Dictionary of Medicine, Nursing, and Allied Health, Seventh Edition. © 2003 by Saunders, an imprint of Elsevier, Inc. All rights reserved.
jug·u·lar
(

jŭg'yū-lăr

),

1. Relating to the throat or neck.

2. Relating to the jugular veins.

3. A jugular vein.

[L. jugulum, throat]

Farlex Partner Medical Dictionary © Farlex 2012
jugular
(jŭg′yə-lər)
adj.
Of, relating to, or located in the region of the neck or throat.
n.
1. A jugular vein.
2.
The most vital part:
a strategic attack aimed at the enemy's jugular.
The American Heritage® Medical Dictionary Copyright © 2007, 2004 by Houghton Mifflin Company. Published by Houghton Mifflin Company. All rights reserved.
jug·u·lar
(

jŭg'yū-lăr

)

1. Relating to the throat or neck.

2. Relating to the jugular veins.

3. A jugular vein.

[L. jugulum, throat]

Medical Dictionary for the Health Professions and Nursing © Farlex 2012
jugular
Pertaining to the throat or neck.

Collins Dictionary of Medicine © Robert M. Youngson 2004, 2005
jugular
of or relating to the throat or neck, particularly the jugular veins, internal and external, that carry blood from the head to the anterior vena cava and hence to the heart.

Collins Dictionary of Biology, 3rd ed. © W. G. Hale, V. A. Saunders, J. P. Margham 2005