collarette
(redirected from iris frill)
Also found in:
Dictionary
.
collarette
[

kol″er-et´

]

1.

a narrow rim of loosened

keratin

overhanging the periphery of a circumscribed skin lesion, attached to the normal surrounding skin.

2.

an irregular jagged line dividing the anterior surface of the iris into two regions, the

pupillary

zone

and the

ciliary

zone

.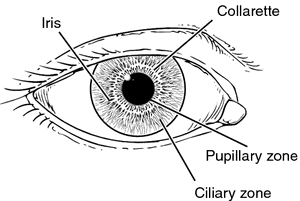 Biett's collarette
a type of papular
syphilid
in which the central papule is surrounded by a ring of scales.
Miller-Keane Encyclopedia and Dictionary of Medicine, Nursing, and Allied Health, Seventh Edition. © 2003 by Saunders, an imprint of Elsevier, Inc. All rights reserved.
col·lar·ette
(

kol'er-et'

),

1. The sinuous, scalloped line in the iris that divides the central pupillary zone from the peripheral ciliary zone and marks the embryonic site of the atrophied minor vascular circle of the iris.

2. Brittle scales encircling eyelashes in staphylococcal blepharitis.

Farlex Partner Medical Dictionary © Farlex 2012
Dermatology A rim of thickened epidermis in pyogenic granuloma, which is morphologically similar to the pincer-like surrounding epidermis of lichen nitidus and keratoacanthoma
Mycology A rim of cell wall material at the tip of a phialide, resulting from the tip's rupture during the release of the first phialoconidium

Segen's Medical Dictionary. © 2012 Farlex, Inc. All rights reserved.
collarette 
Line separating the pupillary zone and the ciliary zone which can be seen on the anterior surface of the iris. In the normal iris it is an irregular circular line lying about 1.5 mm from the pupillary margin (Fig. C13).
See
minor arterial circle of the iris
;
crypts of Fuchs
.
Millodot: Dictionary of Optometry and Visual Science, 7th edition. © 2009 Butterworth-Heinemann