yolk sac
(redirected from inverted yolk sac)
Also found in:
Dictionary
,
Thesaurus
,
Encyclopedia
.
sac
[

sak

]

air s's

(

alveolar s's

) the spaces into which the alveolar ducts open distally, and with which the alveoli communicate; see also

lung

.

amniotic sac the sac formed by the amnion, enclosing the fetus suspended in amniotic fluid; popularly known as the bag of waters.

conjunctival sac the potential space, lined by conjunctiva, between the eyelids and the eyeball.

endolymphatic sac the blind, flattened cerebral end of the endolymphatic duct.

hernial sac the peritoneal pouch that encloses protruding intestine.

yolk sac

the extraembryonic membrane connected with the midgut; in vertebrates below true mammals, it contains a yolk mass.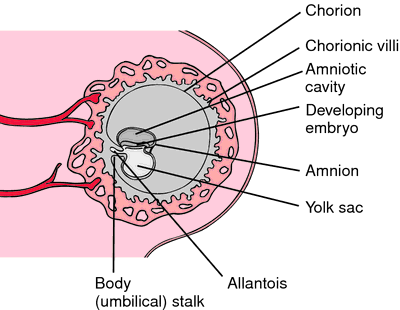 Miller-Keane Encyclopedia and Dictionary of Medicine, Nursing, and Allied Health, Seventh Edition. © 2003 by Saunders, an imprint of Elsevier, Inc. All rights reserved.
yolk sac
1. in vertebrates with telolecithal eggs, the highly vascular layer of splanchnopleure surrounding the yolk of an embryo;
2. in humans and other mammals, the sac of extraembryonic membrane that is located ventral to the embryonic disk and, after formation of the gut tube, is connected to the midgut; by the second month of development, this connection has become the narrow yolk stalk; the yolk sac is the first hematopoietic organ of the embryo, and its vitelline circulation plays an important role in the early embryonic circulation; the sac is also the site of origin of the primordial germ cells.
Farlex Partner Medical Dictionary © Farlex 2012
yolk sac
n.
A membranous sac attached to the embryo and enclosing the yolk in egg-laying vertebrates. In humans and other placental mammals, it functions as the circulatory system for the embryo before internal circulation begins.
The American Heritage® Medical Dictionary Copyright © 2007, 2004 by Houghton Mifflin Company. Published by Houghton Mifflin Company. All rights reserved.
um·bil·i·cal ves·i·cle
(

ŭm-bil'i-kăl ves'i-kĕl

)

A saclike structure formed from the exocelomic cavity of a blastocyst.

Synonym(s):

yolk sac

.

Medical Dictionary for the Health Professions and Nursing © Farlex 2012
yolk sac
A tiny bag attached to the embryo that provides early nourishment before the PLACENTA is formed.

Collins Dictionary of Medicine © Robert M. Youngson 2004, 2005
yolk sac
the sac-like structure that contains YOLK and is in direct contact with the gut of embryos in fish, reptiles and birds. Though present in mammalian embryos, it does not contain yolk but absorbs uterine secretions until the PLACENTA (1) becomes functional.

Collins Dictionary of Biology, 3rd ed. © W. G. Hale, V. A. Saunders, J. P. Margham 2005