intravenous
Also found in:
Dictionary
,
Thesaurus
,
Acronyms
,
Encyclopedia
,
Wikipedia
.
intravenous
[

in″trah-ve´nus

]

within a vein.

intravenous infusion

administration of fluids into a vein by means of a steel needle or plastic catheter. This method of fluid replacement is used most often to maintain fluid and electrolyte balance, or to correct fluid volume deficits after excessive loss of body fluids, in patients unable to take sufficient volumes orally. An additional use is for prolonged nutritional support of patients with gastrointestinal dysfunction (total

parenteral nutrition

).

Besides these uses, many medications are administered by intravenous infusion. A

piggyback intravenous infusion

is the intermittent delivery of an additional fluid or medication through the primary intravenous line from a second source of fluid with a secondary set of intravenous tubing.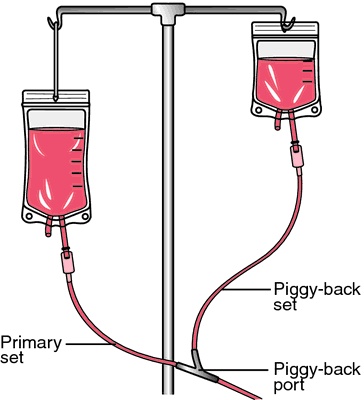 A
push intravenous infusion
is the direct injection of medication into a vein through an intravenous line, needle, or catheter.
Manufacturers' instructions must be followed for preparation and administration of all such medications. The fluid to be infused and the flow rate are by prescription. With intravenous infusions of medication, the danger of drug incompatibility is very real. Incompatibility charts are not entirely reliable as sources of information about chemical interaction of drug additives combined in an intravenous infusion. For this reason admixing should be done by a clinical pharmacologist. Intravenous antibiotics should be mixed only with electrolytes. Because of their local irritating effects on the vein, doses of potassium chloride and dextrose solutions with a concentration higher than 10 per cent should not be given through a peripheral vein. Unless otherwise directed by the manufacturer, it is best to dilute all intravenous medications before administering them. When medications must be reconstituted with a solvent or removed from a glass ampule, a transfer filter should be used to filter out particulate matter. Once medications have been added to an intravenous solution the container should be checked every 30 minutes. A flowmeter is applied to the container of fluid and set to maintain the desired rate of flow. Infusion pumps are used and maintained according to hospital policy.
Miller-Keane Encyclopedia and Dictionary of Medicine, Nursing, and Allied Health, Seventh Edition. © 2003 by Saunders, an imprint of Elsevier, Inc. All rights reserved.
in·tra·ve·nous (IV, I.V., i.v.),
(

in'tră-vē'nŭs

), Avoid the mispronunciations

in-ter-vē'nŭs

and

in-tră-vē'nē-nŭs

.

Within a vein or veins.

Farlex Partner Medical Dictionary © Farlex 2012
intravenous
(ĭn′trə-vē′nəs)
adj. Abbr.
IV
Within or administered into a vein.
n.
A drug, nutrient solution, or other substance administered into a vein.
---
in′tra·ve′nous·ly adv.
The American Heritage® Medical Dictionary Copyright © 2007, 2004 by Houghton Mifflin Company. Published by Houghton Mifflin Company. All rights reserved.
intravenous
adjective Within a vein.

Segen's Medical Dictionary. © 2012 Farlex, Inc. All rights reserved.
in·tra·ve·nous
(IV) (

in'tră-vē'nŭs

)

Through the veins.

Medical Dictionary for the Health Professions and Nursing © Farlex 2012
intravenous
1. Within a vein.
2. Into a vein. Intravenous injection of a drug achieves rapid action. It also permits the giving of irritating substances because these are rapidly diluted and dispersed in the blood.
Collins Dictionary of Medicine © Robert M. Youngson 2004, 2005
Intravenous
Into a vein; a needle is inserted into a vein in the back of the hand, inside the elbow, or some other location on the body. Fluids, nutrients, and drugs can be injected.
Gale Encyclopedia of Medicine. Copyright 2008 The Gale Group, Inc. All rights reserved.
in·tra·ve·nous
(IV) (

in'tră-vē'nŭs

)

Within a vein or veins.

Medical Dictionary for the Dental Professions © Farlex 2012