tyloma
(redirected from interdigital tyloma)
callus
[

kal´us

]

1. localized hyperplasia of the horny layer of the epidermis due to pressure or friction.

2.

an unorganized network of woven bone formed about the ends of a broken bone; it is absorbed as repair is completed (provisional callus), and ultimately replaced by true bone (definitive callus).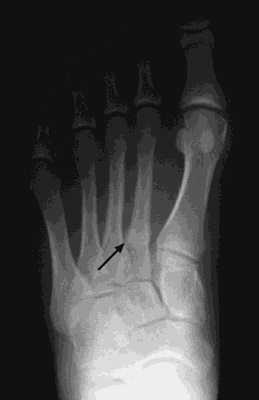 Miller-Keane Encyclopedia and Dictionary of Medicine, Nursing, and Allied Health, Seventh Edition. © 2003 by Saunders, an imprint of Elsevier, Inc. All rights reserved.
cal·los·i·ty
(

ka-los'i-tē

),

A circumscribed thickening of the keratin layer of the epidermis as a result of repeated friction or intermittent pressure.

[L. fr. callosus, thick-skinned]

Farlex Partner Medical Dictionary © Farlex 2012
cal·los·i·ty
(

kă-los'i-tē

)

A circumscribedthickening of the keratin layer of the epidermis as a result of repeated friction or intermittent pressure.

Synonym(s):

callus

(1) ,

keratoma

(1) ,

poroma

(1) ,

tyloma

.

[L. fr. callosus, thick-skinned]

Medical Dictionary for the Health Professions and Nursing © Farlex 2012