insulin resistance
Also found in:
Dictionary
,
Thesaurus
,
Legal
,
Financial
,
Acronyms
,
Encyclopedia
,
Wikipedia
.
Insulin Resistance
Definition
Insulin resistance is not a disease as such but rather a state or condition in which a person's body tissues have a lowered level of response to insulin, a hormone secreted by the pancreas that helps to regulate the level of glucose (sugar) in the body. As a result, the person's body produces larger quantities of insulin to maintain normal levels of glucose in the blood. There is considerable individual variation in sensitivity to insulin within the general population, with the most insulin-sensitive persons being as much as six times as sensitive to the hormone as those identified as most resistant. Some doctors use an arbitrary number, defining insulin resistance as a need for 200 or more units of insulin per day to control blood sugar levels. Various researchers have estimated that 3-16 percent of the general population in the United States and Canada is insulin-resistant; another figure that is sometimes given is 70-80 million Americans.
Description
To understand insulin resistance, it may be helpful for the reader to have a brief account of the way insulin works in the body. After a person eats a meal, digestive juices in the small intestine break down starch or complex sugars in the food into glucose, a simple sugar. The glucose then passes into the bloodstream. When the concentration of glucose in the blood reaches a certain point, the pancreas is stimulated to release insulin into the blood. As the insulin reaches cells in muscle and fatty (adipose) tissues, it attaches itself to molecules called insulin receptors on the surface of the cells. The activation of the insulin receptors sets in motion a series of complex biochemical signals within the cells that allow the cells to take in the glucose and convert it to energy. If the pancreas fails to produce enough insulin or the insulin receptors do not function properly, the cells cannot take in the glucose and the level of glucose in the blood remains high.
The insulin may fail to bind to the insulin receptors for any of several reasons. Some persons inherit a gene mutation that leads to the production of a defective form of insulin that cannot bind normally to the insulin receptor. Others may have one of two types of abnormalities in the insulin receptors themselves. In type A, the insulin receptor is missing from the cell surface or does not function properly. In type B, the person's immune system produces autoantibodies to the insulin receptor.
In the early stages of insulin resistance, the pancreas steps up its production of insulin in order to control the increased levels of glucose in the blood. As a result, it is not unusual for patients to have high blood sugar levels and high blood insulin levels (a condition known as hyperinsulinemia) at the same time. If insulin resistance is not detected and treated, however, the islets of Langerhans (the insulin-secreting groups of cells) in the pancreas may eventually shut down and decrease in number.
Causes & symptoms
Causes
The reasons for the development of insulin resistance are not completely understood as of the early 2000s, but several factors that contribute to it have been identified:
Symptoms
The symptoms of insulin resistance vary considerably from person to person. Some people may have no noticeable symptoms until they develop signs of heart disease or are diagnosed with high blood pressure during a routine checkup. Other patients may come to the doctor with extremely high levels of blood sugar (hyperglycemia) and such classical symptoms of diabetes as thirst, frequent urination, and weight loss. A small percentage of patients—most commonly women with polycystic ovary syndrome—develop a velvet-textured blackish or dark brown discoloration of the skin known as acanthosis nigricans. This symptom, which is most commonly found on the neck, groin, elbows, knees, knuckles, or armpits, is thought to appear when high levels of insulin in the blood spill over into the skin. This spillover activates insulin receptors in the skin and causes it to develop an abnormal texture and color. Acanthosis nigricans occurs more frequently in Hispanic and African American patients than in Caucasians.
Disorders associated with insulin resistance
Insulin resistance became an important field of research in the late 1980s, when doctors first began to understand it as a precondition of several common but serious threats to health. As of the early 2000s, insulin resistance is associated with the following disorders:
Diagnosis
Patient history and physical examination
Because insulin resistance is a silent condition in many people, the National Institute of Diabetes and Digestive and Kidney Diseases (NIDDK) recommends that all adults over the age of 45 be tested for type 2 diabetes. People younger than 45 who are overweight and have one or more of the following risk factors should also visit their doctor to be tested:
Some signs and symptoms associated with insulin resistance can be detected by a primary care physician during a routine office visit. Blood pressure, weight, body shape, and the condition of the skin can be checked, as well as determining whether the patient meets the criteria for obesity or is less severely over-weight. Obesity is determined by the patient's body mass index, or BMI. The BMI, which is an indirect measurement of the amount of body fat, is calculated in English units by multiplying a person's weight in pounds by 703.1, and dividing that number by the person's height in inches squared. A BMI between 19 and 24 is considered normal; 25-29 is overweight; 30-34 is moderately obese; 35-39 is severely obese; and 40 or higher is defined as morbidly obese. The doctor may also evaluate the patient for obesity in the office by measuring the thickness of the skinfold at the back of the upper arm.
The distribution of the patient's weight is also significant, as insulin resistance is associated with a so-called "apple-shaped" figure, in which much of the excess weight is carried around the abdomen. People whose excess weight is carried on the hips (the "pearshaped" figure) or distributed more evenly on the body are less likely to develop insulin resistance. One way of measuring weight distribution is the patient's waist-to-hip ratio; a ratio greater than 1.0 in men or 0.8 in women is strongly correlated with insulin resistance.
Laboratory tests
There is no single laboratory test that can be used to diagnose insulin resistance by itself as of 2005. Doctors usually evaluate individual patients on the basis of specific symptoms or risk factors. The tests most commonly used include the following:
A highly accurate technique for measuring insulin resistance is called the euglycemic clamp technique. The patient's blood insulin level is kept ("clamped") at a high but steady level by continual insulin infusion while the blood glucose level is monitored at frequent intervals. Glucose concentrations in the blood are maintained at a normal level by an adjustable-rate glucose drip. The amount of glucose needed to maintain a normal blood glucose level over a given unit of time indicates the degree of insulin resistance. This test, however, requires complex equipment and careful monitoring; it is considered too cumbersome to use in routine screening and is used mostly by researchers.
Treatment
Lifestyle modifications
Lifestyle modifications are the first line of treatment in dealing with insulin resistance:
Medications
There are several different types of medications that can be used to treat patients with abnormal blood sugar or insulin levels:
As of early 2005, however, the Food and Drug Administration (FDA) has not approved any drugs for the treatment of insulin resistance by itself. For this reason, the American Diabetes Association does not recommend treating insulin resistance with medications unless the patient has already been diagnosed with diabetes.
Acanthosis nigricans may be treated with topical preparations containing Retin-A, 20% urea, or salicylic acid; however, many patients find that the skin disorder improves by itself following weight loss.
Surgery
Alternative treatment
Prognosis
Since insulin resistance is a condition that precedes the appearance of symptoms of a number of different disorders, its prognosis depends in part on the patient's age, ethnicity, family history, and severity of any current health problems. Some patients diagnosed with insulin resistance eventually develop type 2 diabetes, but it is not yet known why the others do not; for example, some patients do not develop diabetes in spite of a high degree of insulin resistance. What is known at present is that weight reduction and exercise can control or even reverse insulin resistance in many people.
Prevention
Genetic factors contributing to insulin resistance cannot be changed as of the early 2000s.
Key terms
With regard to lifestyle factors, the National Institute of Diabetes and Digestive and Kidney Diseases (NIDDK) reported the findings of a study of the effects of lifestyle changes or metformin on the incidence of diabetes in a group of over 3200 overweight people with impaired glucose tolerance, which is a risk factor for developing type 2 diabetes. The researchers found that the subjects in the lifestyle modification group, who lowered their food intake and took 30-minute walks five days a week, had a 58-percent lower incidence of diabetes. The subjects who received metformin had a 31-percent lower incidence of diabetes. Lifestyle changes were most effective in volunteers over the age of 60, while metformin was most effective in younger subjects. In short, the 2002 study confirmed the beneficial effects of lowered food intake and increased activity as preventive measures against type 2 diabetes.
Another important part of preventing insulin resistance is patient education. A number of resources on weight control and exercise written for the general public are available from the Weight-Control Information Network (WIN) on the NIDDK website at http://win.niddk.nih.gov/publications/physical.htm. Some pamphlets are available in Spanish as well as English. Patient education materials on insulin resistance in relation to heart disease and diabetes can be downloaded free of charge from the American Heart Association and American Diabetes Associan websites.
Resources
Books
Periodicals
Organizations
National Diabetes Information Clearinghouse (NDIC). 1 Information Way, Bethesda, MD 20892-3560. (800) 860-8747. Fax: (703) 738-4929.
Other
Gale Encyclopedia of Medicine. Copyright 2008 The Gale Group, Inc. All rights reserved.
insulin
[

in´su-lin

]

1.

the major fuel-regulating hormone of the body, a double-chain protein formed from proinsulin in the beta

cells

of the islets of Langerhans in the

pancreas

. Insulin promotes the storage of glucose and the uptake of amino acids, increases protein and lipid synthesis, and inhibits lipolysis and gluconeogenesis. Secretion of insulin is a response of the beta cells to a stimulus; the primary stimulus is

glucose

, and others are

amino acids

and hormones such as

secretin

,

pancreozymin

, and

gastrin

. These chemicals play an important role in maintaining normal blood glucose levels by triggering insulin release after a meal. After insulin is released from the beta cells, it enters the blood stream and is transported to cells throughout the body. The cell membranes have

insulin receptors

to which the hormone becomes bonded or "fixed." An interaction between the insulin and its receptors leads to biochemical processes that include (1) the transport of glucose, amino acids, and certain ions across the membrane and into the cell body; (2) the storage of glycogen in liver and muscle cells; (3) the synthesis of triglycerides and storage of fat; (4) the synthesis of protein, RNA, and DNA, and (5) inhibition of gluconeogenesis, degradation of glycogen and protein, and lipolysis. Although insulin increases the transport of glucose across the cell membrane of most cells, in the brain glucose enters the cells by simple diffusion through the blood--brain barrier.

2.

a preparation of the hormone, first discovered in 1921, used in treatment of

diabetes mellitus

; it may be bovine or porcine in origin (prepared from the pancreas of the animals) or a recombinant human type, although insulin of bovine origin is no longer available in the United States. Recombinant human types may duplicate exactly the human insulin protein sequence, or may be analogues with small differences in sequence. Commercially prepared insulin is available in various types that differ in the speed with which they act and in the duration of their effectiveness. There are several different types of insulin, usually classified by their onset and duration of action. (See table.)

Patients with diabetes react differently in the rate at which they absorb and utilize exogenous insulin; therefore, the duration of action varies from person to person. Moreover, the site of injection, volume of injection, and the condition of the tissues into which the insulin is injected can alter its rate of absorption and peak action times, and exercising the limb which has been injected immediately after injection can increase the speed of absorption. Insulin is measured in units.

Problems of Insulin Therapy

. The problem of either too much or too little insulin is always a potential hazard for the person on insulin therapy. The causes, symptoms, and treatment of hypoglycemic or insulin reaction and hyperglycemia are discussed under

diabetes mellitus

. Other problems of insulin therapy include

insulin allergy

,

insulin resistance

,

insulin rebound

due to the

somogyi effect

, and

lipodystrophies

or other localized tissue changes at injection sites.

Lipodystrophies

are localized manifestations of disordered fat metabolism at the sites of insulin injection. Tissue

hypertrophy

can be seen as a mass of fibrous scar tissue and is sometimes called "insulin tumor."

atrophy

of the tissues at the injection site appears as dimpling and pitting of the skin and underlying tissues. These problems are more common in adult females and in children. Atrophy of the tissues is relatively harmless, but hypertrophy can cause malabsorption of the insulin and a possible misdiagnosis of

insulin resistance

. Measures that can help prevent

lipodystrophies

include (1) systematic rotation of injection sites, (2) warming insulin to room temperature before injection, (3) pinching the skin when injecting the insulin so that it is deposited between fat and muscle tissue, and (4) use of human insulin.

insulin allergy

a

hypersensitivity reaction

to insulin, usually a reaction to its protein components. More purified insulins have now been developed that are less likely to cause an allergic reaction and other complications. Human insulin, prepared by recombinant genetic engineering, eliminates many problems associated with repeated insulin injections, because of reduced antibody concentrations.

insulin pump

a device consisting of a syringe filled with a predetermined amount of short-acting insulin, a plastic cannula and a needle, and a pump that periodically delivers the desired amount of insulin. The basal rate of insulin delivery usually is one pulse every 8 minutes, but the pump can deliver as many as 60 pulses at a time. Before each meal or snack the patient manually administers a bolus of insulin by adjusting the pump setting to the desired one-time dose. Some insulin pumps will automatically reset themselves to the basal rate of infusion after each bolus. Research is ongoing regarding implantable pumps that release insulin in response to the pump's glucose sensor. This method could potentially administer insulin in a manner resembling the normal absorption from the pancreas.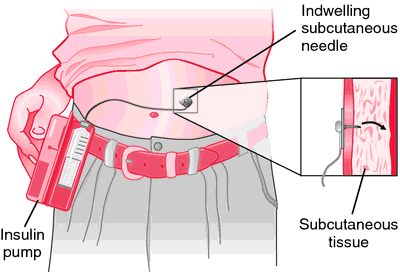 insulin rebound
extreme fluctuations in blood sugar levels owing to overreaction of the body's homeostatic feedback mechanisms for control of glucose metabolism. When exogenous insulin is given, the
hypoglycemia
triggers an outpouring of
glucagon
and
epinephrine
, both of which raise the blood sugar concentration markedly. Although the patient may actually have periods of
hypoglycemia
, urine and blood glucose tests will show
hyperglycemia
. Treatment is aimed at modifying the extremes by gradually lowering the insulin dosage so as to reduce stimulation of the feedback system of glucose regulation. The patient may need to take smaller doses of insulin or take it at more frequent intervals and at different times during the day
insulin resistance
impairment of the normal biologic response to insulin, which may result from abnormalities in the B-cell products, binding of insulin to antagonists such as anti-insulin antibodies, defects in or reduced numbers of receptors, and defects in the insulin action cascade in the target cell. Diabetic persons with this problem require more than 100 units daily, and some may need as much as 500 or 1000 units daily. Besides diabetes, the condition has also been associated with diseases such as
obesity
,
acromegaly
,
uremia
, and certain rare, possibly genetic,
autoimmune diseases
.
insulin sensitivity test
a test used to differentiate
diabetes mellitus
from pituitary and adrenal diabetes. A test dose of exogenous insulin will produce a rapid and marked decrease in blood glucose if the pancreas is not secreting sufficient quantities of insulin. A much less dramatic response is produced if hyperglycemia is due to excessive secretion of either pituitary or adrenocortical hormones rather than insufficient insulin production.
---
resistance
[

re-zis´tans

]

1. opposition, or counteracting force, as opposition of a conductor to passage of electricity or other energy or substance.

2.

the natural ability of a normal organism to remain unaffected by noxious agents in its environment; see also

immunity

.

3. in psychology or psychiatry, conscious or unconscious defenses against change, preventing repressed material from coming into awareness; they can take such forms as forgetfulness, evasions, embarrassment, mental blocks, denial, anger, superficial talk, intellectualization, or intensification of symptoms. It occurs because the blocked association or understanding would be too threatening to face at this point in the therapy; identification of what point the resistance comes at can be an important indicator of the patient's unconscious patterns.

airway resistance the opposition of the tissues of the air passages to air flow: the mouth-to-alveoli pressure difference divided by the rate of air flow. Symbol RA or RAW.

androgen resistance

resistance of target organs to the action of

androgens

, resulting in any of a spectrum of defects from a normal male phenotype in which men have normal genitalia but infertility to complete androgen resistance in which the individual has a female phenotype.

Complete androgen resistance

is an extreme form of male

pseudohermaphroditism

in which the individual is phenotypically female but is of XY chromosomal sex; there may be rudimentary uterus and tubes, but the gonads are typically testes, which may be abdominal or inguinal in position. Called also

testicular feminization

and

testicular feminization syndrome

.

Incomplete androgen resistance

is any of various forms less than the complete type, manifested by a male phenotype with various degrees of ambiguous genitalia such as hypospadias and a small vaginal pouch, a hooded phallus, or a bifid scrotum that may or may not contain gonads.

drug resistance the ability of a microorganism to withstand the effects of a drug that are lethal to most members of its species.

multidrug resistance

(

multiple drug resistance

) a phenomenon seen in some malignant cell lines: cells that have developed natural resistance to a single cytotoxic compound are also resistant to structurally unrelated

chemotherapy

agents. Called also

cross-resistance

.

peripheral resistance resistance to the passage of blood through the small blood vessels, especially the arterioles.

vascular resistance the opposition to blood flow in a vascular bed; the pressure drop across the bed divided by the blood flow, conventionally expressed in peripheral resistance units. Symbol R or R.

Miller-Keane Encyclopedia and Dictionary of Medicine, Nursing, and Allied Health, Seventh Edition. © 2003 by Saunders, an imprint of Elsevier, Inc. All rights reserved.
in·su·lin re·sis·tance
diminished effectiveness of insulin in lowering plasma glucose levels, arbitrarily defined as a daily requirement of at least 200 units of insulin to prevent hyperglycemia or ketosis; usually due to binding of insulin or insulin receptor sites by antibodies; associated with obesity, ketoacidosis, and infection.
See also:
metabolic syndrome
.
Impairment of the normal response of muscle and other cells to endogenous or exogenous insulin often complicates the deficiency of endogenous insulin that is characteristic of Type 2 diabetes mellitus. It is a peripheral phenomenon and can occur even when the quality and quantity of insulin produced by the pancreas are normal. It apparently results from a decrease in the number of insulin receptor sites on cells, from a malfunction of the biochemical glucose transport system, or both. Insulin resistance is often associated with high levels of circulating antibody to insulin receptors. The phenomenon of insulin resistance explains why some patients with Type 2 diabetes have hyperinsulinemia in the fasting state, often coexisting with elevated plasma glucose levels. Insulin resistance correlates closely with obesity in diabetes. It occurs less frequently in lean patients with diabetes, whose principal problem is usually primary failure of insulin production. Insulin resistance is a prominent feature of the metabolic syndrome, which also includes obesity, dyslipidemias, hypertension, and hyperuricemia. Some women with polycystic ovaries, hirsutism, and anovulation also have insulin resistance and hyperinsulinemia. Thiazolidinediones (pioglitazone, rosiglitazone) improve insulin sensitivity in type 2 diabetes mellitus.
Farlex Partner Medical Dictionary © Farlex 2012
insulin resistance
n.
Impaired ability of an organism or of its cells or tissues to respond effectively to insulin, as in type 2 diabetes.
The American Heritage® Medical Dictionary Copyright © 2007, 2004 by Houghton Mifflin Company. Published by Houghton Mifflin Company. All rights reserved.
insulin resistance
Endocrinology A suboptimal hypoglycemic response to physiologic insulin, which may be due to local allergy to insulin, acute exacerbation of chronic leukemia, DKA; IR–measured by oral GTT, and hyperinsulinemia are risk factors for type 2 DM; IR may also be due to ↑ circulating glucagon or a relative insulin receptor deficiency, where plasma insulin is high relative to glucose; in uremia, IR may be due to nonspecific receptor antagonism, as insulin binds poorly to receptors and hypocalcemia with ↑ proinsulin secretion. See Subcutaneous insulin-resistance syndrome. Cf Syndrome X.

Insulin resistance

Type A 'Pre-receptor', due to defects in synthesis and secretion of insulin, seen in the HAIR-IN syndrome, with hyperandrogenism (to a degree suggesting hyperthecosis, ovarian neoplasia, or polycystic ovaries), which is of pubertal onset, with ↑ levels of endogenous insulin, overt DM and resistance to exogenous insulin, related to anti-insulin antibodies.

Type B 'Receptor', related to ↓ insulin binding to receptors, ↓ number of receptors, or to insulin resistance, which may be associated with acanthosis nigricans, autoimmune disease, and overt DM due to circulating anti-receptor antibodies

Type C 'Post-receptor', related to defects arising after the insulin-receptor complex has formed, eg a defect in the cascade that follows receptor-ligand interaction

McGraw-Hill Concise Dictionary of Modern Medicine. © 2002 by The McGraw-Hill Companies, Inc.
in·su·lin re·sis·tance
(

in'sŭ-lin rĕ-zis'tăns

)

Diminished effectiveness of insulin in lowering blood sugar levels; arbitrarily defined as requiring 200 units or more of insulin per day to prevent hyperglycemia or ketosis; usually due to insulin binding by antibodies, but abnormalities in insulin receptors on cell surfaces also occur; associated with obesity, ketoacidosis, infection, and some less common conditions.

Medical Dictionary for the Health Professions and Nursing © Farlex 2012
insulin resistance
A state in which normal levels of insulin in the blood fail to produce the normal biological response. A feedback mechanism results in higher than normal levels of insulin and the blood sugar levels may be normal or raised. Insulin resistance is commonly associated with type II DIABETES (non-insulin dependent diabetes mellitus), obesity and essential HYPERTENSION. It may be exacerbated by various drugs including corticosteroids, beta blockers, and high dosage of thiazide diuretics.

Collins Dictionary of Medicine © Robert M. Youngson 2004, 2005
in·su·lin re·sis·tance
(

in'sŭ-lin rĕ-zis'tăns

)

Diminished effectiveness of insulin in lowering plasma glucose levels, arbitrarily defined as a daily requirement of at least 200 units to prevent hyperglycemia or ketosis; associated with obesity, ketoacidosis, and infection.

Medical Dictionary for the Dental Professions © Farlex 2012