hamstring
(redirected from inner h)
Also found in:
Dictionary
,
Thesaurus
,
Encyclopedia
.
hamstring
[

ham´string

]

one of the tendons that laterally and medially bound the depression in the

popliteal

fossa

(posterior region of the knee).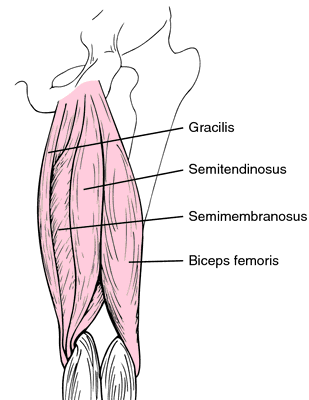 inner h's the tendons of the gracilis, sartorius, and two other muscles of the lower limb (see anatomic Table of Muscles in the Appendices).
outer hamstring the tendon of the biceps muscle of the thigh (see anatomic Table of Muscles in the Appendices).
Miller-Keane Encyclopedia and Dictionary of Medicine, Nursing, and Allied Health, Seventh Edition. © 2003 by Saunders, an imprint of Elsevier, Inc. All rights reserved.
ham·string
, medial hamstringlateral hamstring (

ham'string

),

1. One of the tendons bounding the popliteal space on either side; the medial hamstring comprises the tendons of the semimembranosus and semitendinosus muscles; the lateral hamstring is the tendon of the biceps femoris muscle. Hamstring muscles (a) have origin from the ischial tuberosity, (b) act across (at) both the hip and knee joints (producing extension and flexion, respectively), and (c) are innervated by the tibial portion of the sciatic nerve. The medial hamstring contributes to medial rotation of the leg at the flexed knee joint, whereas the lateral hamstring contributes to lateral rotation.

2. In domestic animals, the combined tendons of the superficial digital flexor, triceps surae, biceps femoris, and semitendinosus muscles, that are referred to as the common calcanean tendon (tendo calcaneus communis); it is attached to the tuber calcis of the hock.

Farlex Partner Medical Dictionary © Farlex 2012
hamstring
(hăm′strĭng′)
n.
1. Any of the tendons at the rear hollow of the human knee.
2. or hamstrings The hamstring muscle.
3. The large tendon in the back of the hock of a quadruped.
The American Heritage® Medical Dictionary Copyright © 2007, 2004 by Houghton Mifflin Company. Published by Houghton Mifflin Company. All rights reserved.
The muscles of the posterior thigh, which consist of biceps femoris—laterally, and the semitendinosus and semimembranosus muscles—medially

Segen's Medical Dictionary. © 2012 Farlex, Inc. All rights reserved.
ham·string
(

ham'string

)

One of the tendons bounding the popliteal space on either side; the medial hamstring comprises the tendons of the semimembranosus, semitendinosus, gracilis, and sartorius muscles; the lateral hamstring is the tendon of the biceps femoris muscle. Hamstring muscles (a) have origin from the ischial tuberosity, (b) act across (at) both the hip and knee joints (producing extension and flexion, respectively), and (c) are innervated by the tibial portion of the sciatic nerve. The medial hamstring contributes to medial rotation of the leg at the flexed knee joint, whereas the lateral hamstring contributes to lateral rotation.

Medical Dictionary for the Health Professions and Nursing © Farlex 2012