inhaler
Also found in:
Dictionary
,
Thesaurus
,
Legal
,
Encyclopedia
,
Wikipedia
.
inhaler
[

in-ha´ler

]

1. an apparatus for administering vapor or volatilized medications by inhalation.

2. ventilator.

metered dose inhaler

an inhaler used to deliver aerosolized medications in fixed doses to patients with respiratory disease.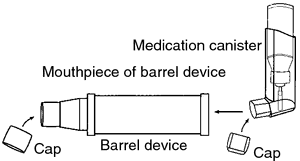 Miller-Keane Encyclopedia and Dictionary of Medicine, Nursing, and Allied Health, Seventh Edition. © 2003 by Saunders, an imprint of Elsevier, Inc. All rights reserved.
in·hal·er
(

in-hāl'ĕr

),

2.

An apparatus for administering pharmacologically active agents by inhalation. Synonym(s):

puffer

Farlex Partner Medical Dictionary © Farlex 2012
inhaler
(ĭn-hā′lər)
n.
1.
One that inhales:
an avid inhaler of aromatic pipe smoke.
2. A device that produces a vapor to ease breathing or is used to medicate by inhalation, especially a small nasal applicator containing a volatile medicament. Also called inhalator.
The American Heritage® Medical Dictionary Copyright © 2007, 2004 by Houghton Mifflin Company. Published by Houghton Mifflin Company. All rights reserved.
inhaler
Therapeutics A device that delivers a therapeutic agent. See Metered-dose inhaler, Nicotrol inhaler.

McGraw-Hill Concise Dictionary of Modern Medicine. © 2002 by The McGraw-Hill Companies, Inc.
in·hal·er
(

in-hāl'ĕr

)

Medical Dictionary for the Health Professions and Nursing © Farlex 2012
inhaler
(ĭn-hāl′ĕr)

1. A device for administering medicines by inhalation.

2. One who inhales.
metered-dose inhaler
Abbreviation: MDI


A device used for self-administration of aerosolized drugs.
Patient care
When used correctly, a metered-dose inhaler can deliver accurate doses of medication to the respiratory tract. The MDI is a drug canister in an L-shaped mouthpiece, which can be used alone or with a "spacer" (a holding chamber designed to aerosolize medication so it can reach the lower respiratory tract). The health care professional teaching the patient proper MDI technique should gather the drug canister and mouthpiece, the package insert, and the spacer (if one is to be used). The MDI should be sprayed once or twice prior to initiating use, and the spacer inspected for foreign objects. The patient should wash his/her hands thoroughly, and may either sit or stand. If a peak flow meter is being used, the patient should take a reading prior to using the MDI. The patient should then clear the throat and nasal passages. The patient should hold the inhaler upright and shake it as directed, then remove the cap and hold the inhaler with the canister on top and the mouthpiece facing the patient's open mouth at the bottom. Tilting the head back slightly, the patient should breathe out slowly and completely. (When using an MDI with a spacer, the inhaler cap is removed and the mouthpiece is firmly inserted into the spacer, then the spacer and inhaler are held together upright and vigorously shaken 5 or 6 times. The space cap is then removed, the head tilted back, and the breath let out slowly and completely.) The inhaler mouthpiece may be positioned in one of two ways: 1 to 2 inches (2.5 to 5 cm) in front of the open mouth, mouth open; or with the mouthpiece in the mouth and lips sealed around it. However, this latter technique is less efficient in delivering medication and should never be used for steroids. While breathing in slowly, evenly, and deeply though the mouth, the patient should press once on the canister and continue inhaling for 3 to 5 sec. The breath should then be held for 10 sec (or as long as possible), allowing the medication to settle in the lungs. The inhaler should be removed from the mouth prior to exhaling. If a spacer is used, the patient should place the spacer mouthpiece in the mouth and seal the lips around it, then press on the canister to spray a puff of medication into the spacer and begin inhaling slowly through the mouth for 3 to 5 sec. The breath should then be held for 10 sec (or as long as possible). The spacer should be removed from the mouth prior to exhaling. If more than one puff is prescribed, the patient should wait 1 to 2 min between puffs to help the second puff to better penetrate the lungs. The patient should be taught to remember "B before C" when using an inhaled bronchodilator and corticosteroid; first inhaling the bronchodilator, waiting about 5 min, and then inhaling the corticosteroid. This helps to open the air passages for maximum absorption of the steroid. After inhaling a corticosteroid, the patient should rinse the mouth with water and expectorate it.

The spacer and the L-shaped mouthpiece and cap should be rinsed with warm, running water at least once each day, and washed with warm soapy water, then rinsed at least once each week. The equipment should always be allowed to air-dry. The patient can calculate how long a drug canister will last by reading the total number of doses on the label, counting the number of puffs used each day, and dividing the total doses by the number of daily puffs. (Thus if a canister contains 200 doses and the patient takes 8-10 each day, a new canister will be required in a month). The health care educator should provide the patient with written instructions and illustrations for proper MDI use. The patient also should be taught about (and provided with) information on the desired effects of each medication and the possible adverse reactions. The teaching session, the patient's demonstration of the method, and any questions raised should be documented in the patient's record.

See: illustration

Medical Dictionary, © 2009 Farlex and Partners
in·hal·er
(

in-hāl'ĕr

)

2. An apparatus for administering pharmacologically active agents by inhalation.

Medical Dictionary for the Dental Professions © Farlex 2012
Patient discussion about inhaler
Q. How can I know the inhaler is empty? My 8 years-old boy has asthma and he takes steroids with inhaler. Every time it runs out of med we get a prescription for a new one. Is that OK? A friend that her son is treated with similar inhaler told me that towards the end it no longer delivers enough medication. How can I know I should get a new one?
A. Here is a video you may find usefull:
<br><object width='425' height='355' id='FiveminPlayer'><param name='allowfullscreen' value='true'/><param name='movie' value='http://www.5min.com/Embeded/8938/'/><embed src='http://www.5min.com/Embeded/8938/' type='application/x-shockwave-flash' width='425' height='355' allowfullscreen='true'></embed></object>
Q. What are the side effects for the regular asthma inhalers? I am taking an inhaler (non-steroid one) for my asthma and I wanted to know what can be possible side effects to this treatment.
A. Simple inhalers that contain a material that helps with keeping the bronchi not constricted, have side effects that are related to the sympathetic nervous system- such as slight tremor, small increase in heart rate or blood pressure, but these are all in greater risk when taking in a not-inhaled way. Patients must be cautioned against using these medicines too frequently, as with such use their efficacy may decline, producing desensitization resulting in an exacerbation of symptoms which may lead to refractory asthma, meaning that the attack might not be relieved by these medications anymore.


Q. Is a Proventil Inhaler cheaper by you than Secirity Blue? I pay $60. with Security Blue now. Is it cheaper with you for a three months supply ?
A. here is a drug prices comparing site-
http://www.compare-prescription-prices.com/drug/Proventil.htm

but i couldn't find there that other drug you were talking about....is that it's name?

More discussions about inhaler
This content is provided by iMedix and is subject to iMedix Terms. The Questions and Answers are not endorsed or recommended and are made available by patients, not doctors.