implant denture
Also found in:
Dictionary
,
Thesaurus
,
Encyclopedia
.
denture
[

den´cher

]

a complement of teeth, either natural or artificial; ordinarily used to designate an artificial replacement for the natural teeth and adjacent tissues.

complete denture an appliance replacing all the teeth of one jaw, as well as associated structures of the jaw.

fixed partial denture

a

partial

denture

held in position by attachments to adjacent prepared natural teeth, roots, or implants; called also

bridge

.

implant denture

an artificial denture or single tooth retained and stabilized by a framework or post implanted in the bone.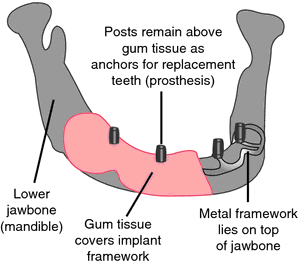 overlay denture a complete denture supported both by soft tissue (mucosa) and by a few remaining natural teeth that have been altered, as by insertion of a long or short coping, to permit the denture to fit over them.
partial denture
a dental appliance that replaces one or more missing teeth, receiving support and retention from underlying tissues and some or all of the remaining teeth; it may be either permanently attached or removable. See
fixed partial

denture
and
removable partial

denture
.
removable partial denture
a
partial

denture
made so that it can readily be removed from the mouth.
im·plant den·ture
(

im'plant den'chŭr

)

A denture that receives its stability and retention from a substructure that is partially or wholly implanted under the soft tissues of the denture basal seat.
im·plant den·ture
(

im'plant den'chŭr

)