holoprosencephaly
Also found in:
Acronyms
,
Wikipedia
.
holoprosencephaly
[

hol″o-pros″en-sef´ah-le

]

a

developmental

anomaly

consisting of failure of cleavage of the prechordal mesoderm with a deficit in the forebrain and midline facial development; in the severe form there may be

cyclopia

. It is sometimes associated with

trisomy 13 syndrome

.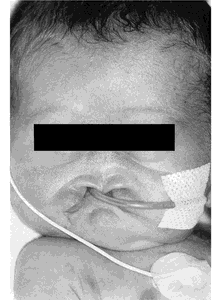 Miller-Keane Encyclopedia and Dictionary of Medicine, Nursing, and Allied Health, Seventh Edition. © 2003 by Saunders, an imprint of Elsevier, Inc. All rights reserved.
hol·o·pros·en·ceph·a·ly
(

hol'ō-pros-en-sef'ă-lē

),

Impaired midline cleavage of the embryonic forebrain resulting in a wide spectrum of facial features from cyclopia with proboscis above the single eye at the most severe form to ocular hypertelorism and single central upper incisor at the mildest form. This spectrum of disorders is associated with chromosomal aberrations involving chromosomes 2, 3, 7, 13, 18 and 21.

[holo- + G. prosō, forward, + enkephalos, brain]

Farlex Partner Medical Dictionary © Farlex 2012
holoprosencephaly
A disorder in which the developing forebrain fails to correctly separate into right and left hemispheres, which is accompanied by facial deformities.

Molecular pathology
Holoprosencephaly is attributed to mutations of the SHH gene.

Segen's Medical Dictionary. © 2012 Farlex, Inc. All rights reserved.
hol·o·pros·en·ceph·a·ly
(

hol'ō-pros-en-sef'ă-lē

)

Failure of the forebrain or prosencephalon to divide into hemispheres or lobes; cyclopia occurs in the severest form. It is often accompanied by a deficit in midline facial development.

[holo- + G. prosō, forward, + enkephalos, brain]

Medical Dictionary for the Health Professions and Nursing © Farlex 2012
hol·o·pros·en·ceph·a·ly
(

hol'ō-pros-en-sef'ă-lē

)

Failure of the forebrain or prosencephalon to divide into hemispheres or lobes; cyclopia occurs in the severest form.

[holo- + G. prosō, forward, + enkephalos, brain]

Medical Dictionary for the Dental Professions © Farlex 2012