hip-joint disease
Also found in:
Dictionary
,
Thesaurus
,
Legal
,
Encyclopedia
.
hip
[

hip

]

the area around the articulation of the

femur

and the

acetabulum

at the base of the lower trunk. (See also

hip

joint

and see Appendices.) At each hip joint, the smooth round head of the femur fits into the acetabulum. The joint is covered by a tough, flexible protective capsule and is heavily reinforced by strong ligaments that stretch across the joint. As in most joints, where the ends of the bones meet they are covered with a layer of cartilage that reduces friction and absorbs shock. The synovial membrane lines the socket and lubricates the joint with synovial fluid. Cushioning is provided by small fluid-filled sacs, or bursae. Called also

coxa

.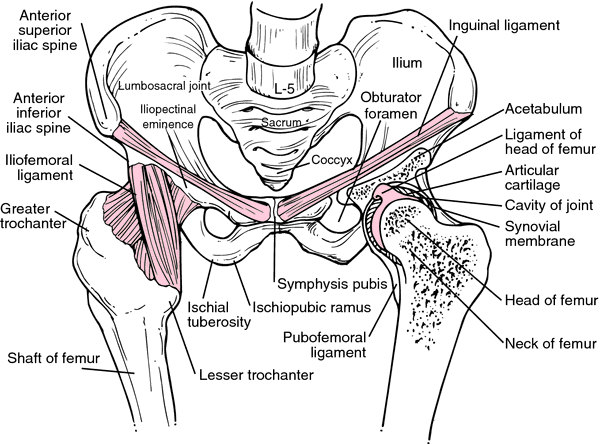 hip-joint disease
tuberculosis of the hip joint; called also
coxalgia
.
hip-joint disease
Etymology: AS, hype + L, jungere, to join; Gk, dis, not; Fr, aise, ease
any abnormal condition of the hip joint, such as Legg-Calvé-Perthes disease or congenital dislocation of the hip.