haustrum
Also found in:
Encyclopedia
.
haustrum
[

haws´trum

] (pl. haus´tra) (L.)

one of the pouches of the colon, produced by adaptation of its length to the

taenia coli

, or by collection of circular muscle fibers 1 or 2 cm apart; the haustra are responsible for the sacculated appearance of the colon.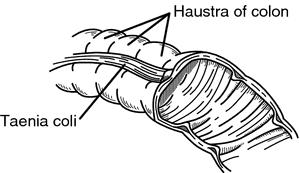 Miller-Keane Encyclopedia and Dictionary of Medicine, Nursing, and Allied Health, Seventh Edition. © 2003 by Saunders, an imprint of Elsevier, Inc. All rights reserved.
haus·trum
, pl.
haus·tra
(

haw'strŭm, haw'stră

), [TA] The correct plural of this word is

haustra

, not

haustrae

.

One of a series of saccules or pouches, so called because of a fancied resemblance to the buckets on a water wheel.

[L. a machine for drawing water, fr. haurio, pp. haustus, to draw up, drink up]

Farlex Partner Medical Dictionary © Farlex 2012
haus·trum
, pl. haustra (

haws'trŭm, -ă

) [TA]

One of a series of saccules or pouches, so called because of a supposed resemblance to the buckets on a water wheel.

[L. a machine for drawing water, fr. haurio, pp. haustus, to draw up, drink up]

Medical Dictionary for the Health Professions and Nursing © Farlex 2012