hammer toe
Also found in:
Dictionary
,
Thesaurus
,
Encyclopedia
,
Wikipedia
.
toe
[

to

]

a digit of the foot.

claw toe a toe deformity seen in many patients with rheumatoid arthritis, consisting of dorsal subluxation of toes 2 through 5; the metatarsal heads bear weight and become painful during walking so that the patient has a shuffling gait.

hammer toe

deformity of a toe in which the proximal phalanx is extended and the second and distal phalanges are flexed, causing a clawlike appearance; it most often affects the second toe.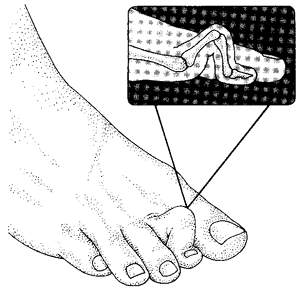 pigeon toe
a permanent toeing-in position of the feet; severe cases are considered a form of
clubfoot (talipes)
.
webbed t's
syndactyly
of the toes abnormally joined by strands of tissue at their base.
Miller-Keane Encyclopedia and Dictionary of Medicine, Nursing, and Allied Health, Seventh Edition. © 2003 by Saunders, an imprint of Elsevier, Inc. All rights reserved.
ham·mer toe
permanent flexion deformity of a toe at an interphalangeal joint.
Farlex Partner Medical Dictionary © Farlex 2012
hammer toe
Hallux valgus Podiatry A flexion deformity of the proximal interphalangeal joint–PIP of lesser toes, due to an imbalance of the intrinsic foot muscles; HT may occur when longer toes are pressed back into line with other toes most commonly from tight shoes, affecting 2nd to 4th; curling can cause a painful corn on dorsum of PIP or tenderness on plantar aspect of affected toe Conservative management Make deeper toe box, slitting shoe over affected toe, strapping toe into extension, or manipulating the toe to maintain mobility Surgical treatment Keller arthroplasty to remove exostosis, proximal phalangectomy

McGraw-Hill Concise Dictionary of Modern Medicine. © 2002 by The McGraw-Hill Companies, Inc.
ham·mer toe
(

ham'ĕr tō

)

Permanent flexion at the midphalangeal joint of one or more of the toes.

Medical Dictionary for the Health Professions and Nursing © Farlex 2012
hammer toe
A toe permanently bent so that the outer bone points downward like the head of a hammer. The condition is caused by excessive tightness of the tendon that bends the toe (flexor tendon) and is often treated by cutting tight tendons and fusing the two toe bones together (ARTHRODESIS).

Collins Dictionary of Medicine © Robert M. Youngson 2004, 2005