ground bundle
Also found in:
Dictionary
,
Thesaurus
,
Legal
,
Financial
,
Encyclopedia
.
bundle
[

bun´d'l

]

fundamental bundle (ground bundle) that part of the white matter of the spinal cord bordering the gray matter and containing fibers that travel for a distance of only a few segments of the cord.

bundle of His

a band of cardiac

muscle

fibers

connecting the atria with the ventricles of the heart; called also

atrioventricular bundle

.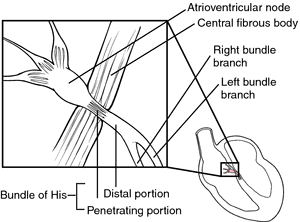 medial forebrain bundle
a group of
nerve

fibers
connecting the midbrain tegmentum and elements of the limbic system.
Thorel's bundle
a bundle of
muscle

fibers
in the human heart connecting the sinoatrial and atrioventricular nodes.
Miller-Keane Encyclopedia and Dictionary of Medicine, Nursing, and Allied Health, Seventh Edition. © 2003 by Saunders, an imprint of Elsevier, Inc. All rights reserved.
ground bundle
A bundle of nerve fibers that immediately surrounds the gray matter of the spinal cord. It is divided into three regions, the anterior, lateral, and posterior bundles, which lie in the corresponding funiculi. These consist principally of short descending fibers.
Medical Dictionary, © 2009 Farlex and Partners