genetic map
Also found in:
Dictionary
,
Thesaurus
,
Encyclopedia
,
Wikipedia
.
genetic
[

jĕ-net´ik

]

1. pertaining to reproduction or to birth or origin.

2. inherited.

genetic code the arrangement of nucleotides in the polynucleotide chain of a chromosome; it governs the transmission of genetic information to proteins, i.e., determines the sequence of amino acids in the polypeptide chain making up each protein synthesized by the cell. Genetic information is coded in DNA by means of four bases: two purines (adenine and guanine) and two pyrimidines (thymine and cystosine). Each adjacent sequence of three bases (a codon) determines the insertion of a specific amino acid. In RNA, uracil replaces thymine.

genetic map

1. the location of mutations along the length of a chromosome, as determined by recombination experiments. The unit of length is the centimorgan (cM), one crossover per meiosis.

2.

the sequence of base pairs along the DNA of a chromosome, a technique being applied to humans.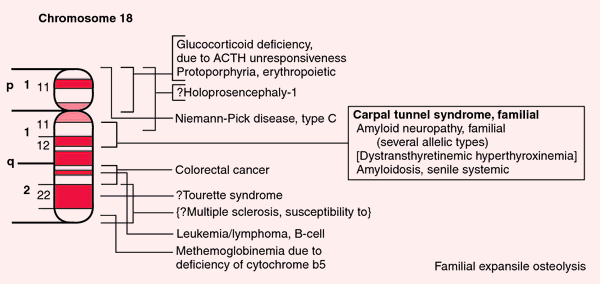 genetic marker a gene having alleles that are all expressed in the phenotype, that is, they are codominant, and which can be used to study inheritance. The various blood group systems and serum or red blood cell proteins easily detected by electrophoresis or immunodiffusion are commonly used markers.
Miller-Keane Encyclopedia and Dictionary of Medicine, Nursing, and Allied Health, Seventh Edition. © 2003 by Saunders, an imprint of Elsevier, Inc. All rights reserved.
ge·net·ic map
an abstract representation of the ordered array of genetic loci such that the interval between entries has algebraic signs and magnitude proportional to the expected number of crossings over between them and distances are algebraically additive; for example, on a genetic map the combined distance between locus A and locus C is the algebraic sum of the two distances between loci A and B, and B and C.
Farlex Partner Medical Dictionary © Farlex 2012
genetic map
n.
A graphic representation of the arrangement of genes or DNA sequences on a chromosome. Also called gene map.
The American Heritage® Medical Dictionary Copyright © 2007, 2004 by Houghton Mifflin Company. Published by Houghton Mifflin Company. All rights reserved.
genetic map
(1) Chromosome map, see there.  
(2) Linkage map, see there.

Segen's Medical Dictionary. © 2012 Farlex, Inc. All rights reserved.
ge·net·ic map
(

jĕ-net'ik map

)

An abstract representation of the ordered array of genetic loci such that the interval between entries has algebraic signs and magnitude proportional to the expected number of crossings over between them and distances are algebraically additive; e.g., on a genetic map the combined distance between locus A and locus C is the algebraic sum of the two distances between loci A and B, and B and C.

Medical Dictionary for the Health Professions and Nursing © Farlex 2012
genetic map
see CHROMOSOME MAP.

Collins Dictionary of Biology, 3rd ed. © W. G. Hale, V. A. Saunders, J. P. Margham 2005