forceps delivery
Also found in:
Dictionary
,
Thesaurus
,
Legal
,
Financial
,
Acronyms
,
Encyclopedia
,
Wikipedia
.
delivery
[

de-liv´er-e

]

1. the bringing of something to a place.

2.

expulsion or extraction of the child and fetal membranes at birth; see also

labor

. Called also

accouchement.

breech delivery

delivery of a fetus in breech presentation; see also

breech extraction

.

controlled drug delivery

a system used in dentistry that delivers an

antimicrobial agent

to the target site and maintains the desired concentration for enough time without development of resistant bacteria.

forceps delivery

extraction of a fetus from the maternal passages by application of forceps to the child's head. See illustration.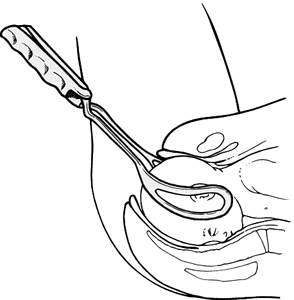 for·ceps de·liv·er·y
assisted childbirth by means of an instrument designed to grasp the fetal head.
forceps delivery
n.
The birth of a child assisted by extraction with a forceps designed to grasp the head.
forceps delivery
an obstetric operation in which instruments are used to deliver a baby. It is performed to overcome dystocia, to quickly deliver a baby experiencing fetal distress, or, most often, to shorten normal labor. Local or regional anesthesia is usual, as is episiotomy. Prerequisites to forceps delivery include full dilation of the cervix, engagement of the fetal head, certain knowledge of the position of the head, and ruptured membranes. The blades of the forceps are introduced into the vagina one at a time and applied symmetrically to opposite sides of the baby's head; the handles of the forceps are pulled together so that the head is held firmly between the blades; the head is rotated, if necessary, to the occiput anterior or occiput posterior position; and traction is applied so as to draw the head from the birth passage. When the head has been delivered, the forceps are removed and the delivery is completed manually. Because cesarean section is performed more often now than formerly, traumatic forceps deliveries are uncommon. Kinds of forceps delivery are
high forceps,
low forceps,
and
mid forceps.
Compare
forceps rotation,
trial forceps
.See also
obstetric forceps
.
for·ceps de·liv·er·y
(

fōr'seps dĕ-liv'ĕr-ē

)

Assisted birth of the child by an instrument designed to grasp the fetal head.
forceps delivery
Delivery of a baby assisted by traction on the head with obstetrical forceps after the neck of the womb (cervix) is fully widened (dilated). Forceps are used in the event of long delay in the stage after the cervix is fully dilated (the second stage of labour), if there is FETAL DISTRESS, if there is exhaustion of, or danger to, the mother (maternal distress), or if the fetus is very small and the head is liable to be damaged during passage through the vagina.