footboard
(redirected from footboards)
Also found in:
Dictionary
,
Thesaurus
.
footboard
[

foot´bord

]

a device placed at the foot of the bed in such a way that the feet rest firmly against it and are at right angles to the legs. It is used to relieve the weight of the bedclothes and to maintain proper positioning of the feet while a patient is confined to bed. Its purpose is to prevent development of

footdrop

. It also helps maintain good posture by preventing the patient from slipping down in bed.

A footboard can be an adjustable metal device attached to the bed, a wooden apparatus, or an improvised structure made for a patient in the home from a cardboard box. Many patients, of all ages, wear high top sneakers in connection with the use of a footboard; these help the patient maintain proper alignment of the feet, and the rubber soles keep the feet from slipping away from the footboard. Specialized orthotic devices to keep the foot in good alignment may also be used.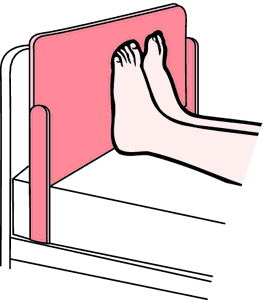 footboard
a board, device or open box placed at the end of a patient's bed and at a level above the top of the mattress to prevent the weight of the top sheet and blankets from resting on the feet. It is situated so that the soles of the feet are positioned firmly against the board with the legs at right angles to it. Its purposes are to help the bedridden patient retain normal posture and prevent footdrop.