fontanel
Also found in:
Dictionary
,
Thesaurus
,
Encyclopedia
,
Wikipedia
.
fontanelle
[

fon″tah-nel´

]

one of the membrane-covered spaces remaining at the junction of the sutures in the incompletely ossified skull of the fetus or infant. Actually there are two soft spots close together, representing gaps in the bone structure which will be filled in by bone during the normal process of growth. The anterior fontanelle is diamond shaped and lies at the junction of the frontal and parietal bones. This fontanelle usually fills in and closes between the eighth and fifteenth months of life. The posterior fontanelle lies at the junction of the occipital and parietal bones, is triangular in shape, and usually closes by the third or fourth month of life. Though these "soft spots" may appear very vulnerable, they may be touched gently without harm. Care should be exercised that they be protected from strong pressure or direct injury.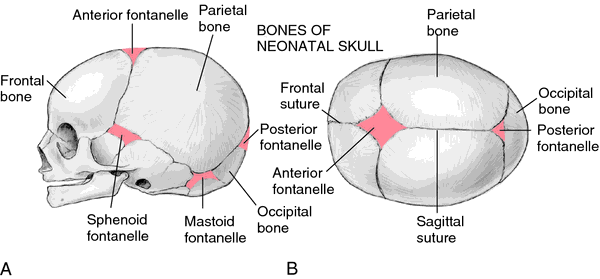 Miller-Keane Encyclopedia and Dictionary of Medicine, Nursing, and Allied Health, Seventh Edition. © 2003 by Saunders, an imprint of Elsevier, Inc. All rights reserved.
fontanel
also
fontanelle
(fŏn′tə-nĕl′)
n.
Any of the soft membranous gaps between the incompletely formed cranial bones of a fetus or an infant. Also called soft spot.
The American Heritage® Medical Dictionary Copyright © 2007, 2004 by Houghton Mifflin Company. Published by Houghton Mifflin Company. All rights reserved.
fontanel
Fontanelle, soft spot Anatomy A membrane-covered region on the skull of a fetus/infant, which corresponds to the convergence of suture lines, where ossification has not yet occurred

McGraw-Hill Concise Dictionary of Modern Medicine. © 2002 by The McGraw-Hill Companies, Inc.
fontanel
, fontanelle (fŏn″tă-nĕl′) [Fr. fontanelle, little fountain]

Any of the tough, fibrous membranes lying between the bones of the cranial vault of a fetus or infant. Fontanels, colloquially known as soft spots, allow an infant's skull to be compressed during passage through the birth canal. The fontanels ossify generally by age two. See: illustration
anterior fontanel
The diamond-shaped junction of the coronal, frontal, and sagittal sutures; it becomes ossified within 18 to 24 months.
posterior fontanel
The triangular fontanel at the junction of the sagittal and lambdoid sutures; ossified generally by age one.
Medical Dictionary, © 2009 Farlex and Partners
Fontanel
One of the membranous intervals between the uncompleted angles of the parietal and neighboring bones of a fetal or young skull; so called because it exhibits a rhythmical pulsation.
Gale Encyclopedia of Medicine. Copyright 2008 The Gale Group, Inc. All rights reserved.