following bougie
Also found in:
Dictionary
,
Encyclopedia
.
bougie
[

boo´zhe

]

a slender, flexible or rigid, hollow or solid, cylindrical instrument for introduction into the urethra or other tubular organ, usually for calibrating or dilating constricted areas.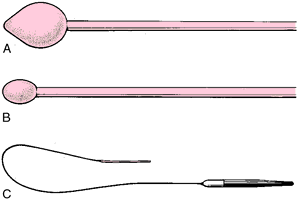 filiform bougie a bougie of very slender caliber, generally used for exploration of small areas, such as sinus tracts, where false tracts could be easily created. The entering end is of smaller diameter, and the following end is threaded to allow for attachment of a following bougie.
following bougie a flexible, tapered bougie attachable to a filiform bougie and allowing progressive dilatation without creation of false tracts.
Hurst b's a series of mercury-filled tubes of progressive diameter used for dilatation of the cardioesophageal region.
Maloney b's a series of mercury-filled tubes of progressive diameter, having cone-shaped tips.
soluble bougie a bougie composed of a substance that becomes fluid in situ.
Miller-Keane Encyclopedia and Dictionary of Medicine, Nursing, and Allied Health, Seventh Edition. © 2003 by Saunders, an imprint of Elsevier, Inc. All rights reserved.
fol·low·ing bou·gie
a flexible tapered bougie with a screw tip that is attached to the trailing end of a filiform bougie, to allow progressive dilation without danger of creating false passages.
Farlex Partner Medical Dictionary © Farlex 2012
fol·low·ing bou·gie
(

fol'ō-ing bū-zhē'

)

A flexible tapered bougie with a screw tip that is attached to the trailing end of a filiform bougie, to allow progressive dilation without danger of creating false passages.

Medical Dictionary for the Health Professions and Nursing © Farlex 2012