calcarine sulcus
(redirected from fissura calcarina)
Also found in:
Dictionary
,
Thesaurus
,
Encyclopedia
.
sulcus
[

sul´kus

] (L.)

a groove or furrow; used in anatomic nomenclature to designate a linear depression, especially one of the

cerebral sulci

.

basilar sulcus a groove in the midline of the anterior surface of the pons, lodging the basilar artery.

calcarine sulcus a sulcus of the medial surface of the occipital lobe, separating the cuneus from the lingual gyrus.

cerebral sulci

the furrows on the surface of the brain between the gyri (see

gyrus

).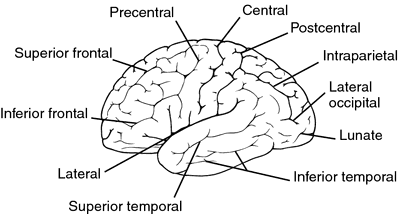 sul´ci cu´tis fine depressions of the skin between the ridges of the skin.
gingival sulcus the space between the surface of the tooth and the epithelium lining the free gingiva.
Miller-Keane Encyclopedia and Dictionary of Medicine, Nursing, and Allied Health, Seventh Edition. © 2003 by Saunders, an imprint of Elsevier, Inc. All rights reserved.
cal·ca·rine sul·cus
[TA]

a deep fissure on the medial aspect of the cerebral cortex, extending on an arched line from the isthmus of the fornicate gyrus back to the occipital pole, marking the border between the lingual gyrus below and the cuneus above it. The cortex in the depth of the sulcus corresponds to the horizontal meridian of the contralateral half of the visual field.

Farlex Partner Medical Dictionary © Farlex 2012
calcarine sulcus
(kăl′kə-rīn′)
n.
A sulcus on the occipital lobe of the brain. Also called calcarine fissure.
The American Heritage® Medical Dictionary Copyright © 2007, 2004 by Houghton Mifflin Company. Published by Houghton Mifflin Company. All rights reserved.
cal·ca·rine sul·cus
(

kal'kă-rēn sŭl'kŭs

) [TA]

A deep fissure on the medial aspect of the cerebral cortex, extending on an arched line from the isthmus of the fornicate gyrus back tothe occipital pole, marking the border between the lingual gyrus below and the cuneus above it. The cortex in the depth of the sulcus corresponds to the horizontal meridian of the contralateral half of the visual field.

Medical Dictionary for the Health Professions and Nursing © Farlex 2012