feedback
(redirected from feedback loop)
Also found in:
Dictionary
,
Thesaurus
,
Acronyms
,
Encyclopedia
,
Wikipedia
.
feedback
[

fēd´bak

]

the return of some of the output of a system as input so as to exert some control in the process. Feedback controls are a type of self-regulating mechanism by which certain activities are sustained within prescribed ranges. For example, the serum concentration of oxygen is affected in part by the rate and depth of respirations and is, therefore, an output of the respiratory system. If the concentration of oxygen drops below normal, this information is transmitted as

input

to the respiratory control center. The control center is thereby stimulated to increase the rate of respirations in order to return the oxygen concentration in the blood to within normal range.

This series of events is an example of

negative feedback,

which always causes the controller to respond in a manner that opposes a deviation from the normal level (setpoint). It is, therefore, a corrective action that returns a factor within the system to a normal range.

Positive feedback

tends to increase a deviation from the setpoint. In other words, positive feedback reinforces and accelerates either an excess or deficit of a factor within the system. See also

homeostasis

.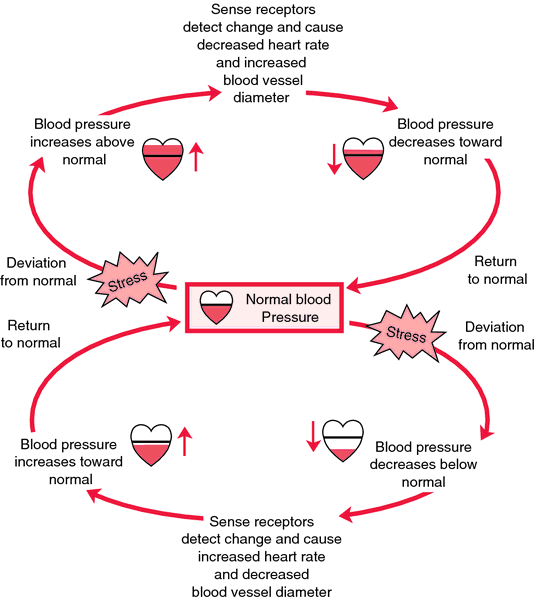 Miller-Keane Encyclopedia and Dictionary of Medicine, Nursing, and Allied Health, Seventh Edition. © 2003 by Saunders, an imprint of Elsevier, Inc. All rights reserved.
feed·back
(

fēd'bak

),

1. In a given system, the return, as input, of some of the output, as a regulatory mechanism; for example, regulation of a furnace by a thermostat.

2. An explanation for the learning of motor skills: sensory stimuli set up by muscle contractions modulate the activity of the motor system.

3. The feeling evoked by another person's reaction to oneself.

Farlex Partner Medical Dictionary © Farlex 2012
feedback
(fēd′băk′)
n.
1.
a. The return of a portion of the output of a process or system to the input, especially when used to maintain performance or to control a system or process.
b. The portion of the output so returned.
c. Sound created when a transducer, such as a microphone or the pickup of an electric guitar, picks up sound from a speaker connected to an amplifier and regenerates it back through the amplifier.
2.
The return of information about the result of a process or activity; evaluative response:
asked the students for feedback on the new curriculum.
3. The process by which a system, often biological or ecological, is modulated, controlled, or changed by the product, output, or response it produces.
The American Heritage® Medical Dictionary Copyright © 2007, 2004 by Houghton Mifflin Company. Published by Houghton Mifflin Company. All rights reserved.
feed·back
(

fēd'bak

)

1. In a given system, the return, as input, of some of the output, as a regulatory mechanism (e.g., regulation of a furnace by a thermostat).

2. An explanation for the learning of motor skills: sensory stimuli set up by muscle contractions modulate the activity of the motor system.

3.

The feeling evoked by another person's reaction to oneself.

See:

biofeedback

Medical Dictionary for the Health Professions and Nursing © Farlex 2012
feedback
A feature of biological and other control systems in which some of the information from the output is returned to the input to exert either a potentiating effect (positive feedback) or a dampening and regularizing effect (negative feedback). Too much positive feedback produces a runaway effect often with oscillation.

Collins Dictionary of Medicine © Robert M. Youngson 2004, 2005
feed·back
(

fēd'bak

)

1. In a given system, the return, as input, of some of the output, as a regulatory mechanism; e.g., regulation of a furnace by a thermostat.

2. An explanation for the learning of motor skills: sensory stimuli set up by muscle contractions modulate the activity of the motor system.

3.

The feeling evoked by another person's reaction to oneself.

See:

biofeedback

Medical Dictionary for the Dental Professions © Farlex 2012