hearing aid
(redirected from eyeglass model hearing aid)
Also found in:
Dictionary
,
Thesaurus
,
Encyclopedia
.
hearing
[

hēr´ing

]

the sense by which sounds are perceived, or the capacity to perceive sound; sound waves are converted into nerve impulses for interpretation by the brain. The organ of hearing is the

ear

, which is divided into the outer, middle, and inner ear, each with its own role. Connecting the middle ear with the nasopharynx is the eustachian tube, through which air enters to equalize the pressure on both sides of the tympanic membrane (eardrum). Called also

audition

.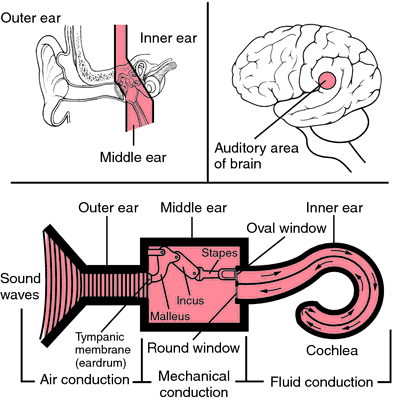 hearing aid
an instrument to amplify sounds for those with
hearing loss
. There are two types of electronic hearing aids: the air-conduction type, which is worn in the external acoustic meatus, and the bone-conduction type, which is worn in back of the ear over the mastoid process.
Those who have conductive
hearing loss
can often use any one of the better aids with good results. Patients with
otosclerosis
will probably need the bone-conduction type of instrument. Those with sensorineural
hearing loss
(caused by injury to the vestibulocochlear nerve), or a mixed type, may have more trouble selecting a suitable hearing aid and may get less satisfactory results.
Those wearing a hearing aid for the first time should have special training in its proper use. A hearing aid picks up and amplifies all sounds in the vicinity. Often a person whose hearing has declined gradually will have lost the facility to ignore background noises. When one first tries a hearing aid, one's ears will be assaulted by the sounds of passing cars, of doors slamming, of telephones ringing. Training in how to filter out these noises and concentrate on the essential is necessary if the person is to get good results from the hearing aid. For best results, this should be combined with lessons in lipreading.
A
cochlear implant
can help profoundly deaf persons recognize and interpret various sounds. It does not restore hearing but can improve the quality of life for the deaf.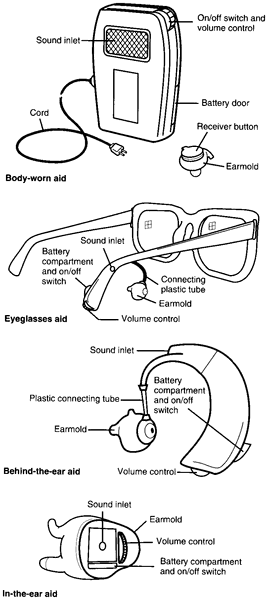 hearing (omaha)
in the
omaha system
, a
client
problem
in the physiologic
domain
.
Miller-Keane Encyclopedia and Dictionary of Medicine, Nursing, and Allied Health, Seventh Edition. © 2003 by Saunders, an imprint of Elsevier, Inc. All rights reserved.
hear·ing aid
(

hēr'ing ād

),

An electronic device for amplifying sound to the ear; consisting of a microphone, amplifier, and receiver.

Farlex Partner Medical Dictionary © Farlex 2012
hearing aid
n.
A small electronic apparatus that amplifies sound and is worn in or behind the ear to compensate for impaired hearing.
The American Heritage® Medical Dictionary Copyright © 2007, 2004 by Houghton Mifflin Company. Published by Houghton Mifflin Company. All rights reserved.
hearing aid
Audiology A battery-powered electro-acoustic device that brings amplified sound to the ear to improve hearing, generally worn in the ear. See Hearing loss.

McGraw-Hill Concise Dictionary of Modern Medicine. © 2002 by The McGraw-Hill Companies, Inc.
hear·ing aid
(

hēr'ing ād

)

An electronic amplifying device designed to bring sound more effectively into the ear; it consists of a microphone, amplifier, and receiver.

Synonym(s):

hearing instrument

.

Medical Dictionary for the Health Professions and Nursing © Farlex 2012
hearing aid
Any device capable of increasing sound intensity at the ear, so as to assist the deaf. Electronic hearing aids traditionally consist of a microphone, an integrated circuit amplifier and an earpiece, often combined into a single device. Many include an electro-magnetic pickup for use in buildings or with telephones equipped with electro-magnetic sound radiation devices. Latest designs are intended for ear implantation and, instead of producing amplified sound from an earphone, apply output vibrations directly to the auditory ossicles, so eliminating feedback squeal. Amplification cannot relieve all cases of deafness.

Collins Dictionary of Medicine © Robert M. Youngson 2004, 2005
hear·ing aid
(

hēr'ing ād

)

An electronic amplifying device designed to bring sound more effectively into the ear; it consists of a microphone, amplifier, and receiver.

Medical Dictionary for the Dental Professions © Farlex 2012