eversion
Also found in:
Dictionary
,
Thesaurus
,
Wikipedia
.
eversion
[

e-ver´zhun

]

a turning inside out; a turning outward.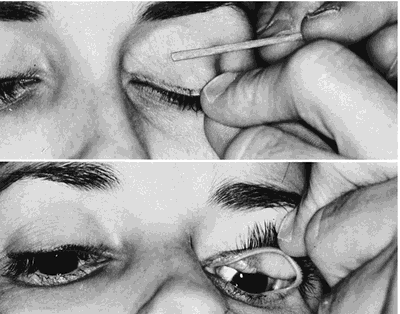 cervical eversion the columnar glandular epithelium on the surface of the cervix surrounding the cervical os.
Miller-Keane Encyclopedia and Dictionary of Medicine, Nursing, and Allied Health, Seventh Edition. © 2003 by Saunders, an imprint of Elsevier, Inc. All rights reserved.
e·ver·sion
(

ē-ver'zhŭn

),

A turning outward, as of the eyelid or foot.

[L. e-everto, pp. -versus, to overturn]

Farlex Partner Medical Dictionary © Farlex 2012
eversion
Orthopedics Movement on the frontal plane in which the plantar aspect of the foot is tilted away from the midline; the axis lies on the sagittal and transverse planes

McGraw-Hill Concise Dictionary of Modern Medicine. © 2002 by The McGraw-Hill Companies, Inc.
e·ver·sion
(

ē-vĕr'zhŭn

)

A turning outward, as of the eyelid or foot.

[L. e-everto, pp. -versus, to overturn]

Medical Dictionary for the Health Professions and Nursing © Farlex 2012
eversion
A turning outwards.

Collins Dictionary of Medicine © Robert M. Youngson 2004, 2005