epispadias
Also found in:
Dictionary
,
Thesaurus
,
Encyclopedia
,
Wikipedia
.
epispadias
[

ep″ĭ-spa´de-as

]

a congenital malformation with absence of the upper wall of the urethra; it occurs in both sexes, but more commonly in the male, with the urethral opening somewhere on the dorsum of the penis. adj.,

adj

epispa´diac, epispa´dial.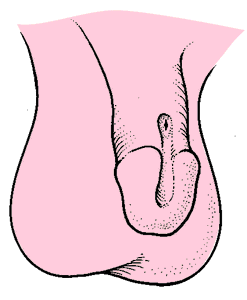 Miller-Keane Encyclopedia and Dictionary of Medicine, Nursing, and Allied Health, Seventh Edition. © 2003 by Saunders, an imprint of Elsevier, Inc. All rights reserved.
ep·i·spa·di·as
(

ep'i-spā'dē-ăs

),

A malformation in which the urethra opens on the dorsum of the penis; frequently associated with exstrophy of the bladder.

[epi- + G. spaō, to tear or gouge]

Farlex Partner Medical Dictionary © Farlex 2012
epispadias
Hyperspadias Urology A congenital defect in the dorsal urethra, resulting in an opened upper meatal orifice. Cf. Hypospadias

McGraw-Hill Concise Dictionary of Modern Medicine. © 2002 by The McGraw-Hill Companies, Inc.
ep·i·spa·di·as
(

ep'i-spā'dē-ăs

)

A malformation in which the urethra opens on the dorsum of the penis; frequently associated with exstrophy of the bladder.

[epi- + G. spaō, to tear or gouge]

Medical Dictionary for the Health Professions and Nursing © Farlex 2012
epispadias
A congenital abnormality of the penis, in which the urine tube (URETHRA) opens on the upper surface. Sometimes the opening is right back near the root, causing difficulties with urination and infertility. Surgical reconstruction is possible.

Collins Dictionary of Medicine © Robert M. Youngson 2004, 2005