epicanthus
(redirected from epicanthi)
Also found in:
Dictionary
,
Thesaurus
,
Encyclopedia
.
epicanthus
[

ep″ĭ-kan´thus

]

a vertical fold of skin on either side of the nose, sometimes covering the inner canthus; a normal characteristic in persons of certain races, but anomalous in others. adj.,

adj

epican´thal, epican´thic.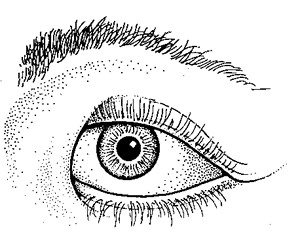 Miller-Keane Encyclopedia and Dictionary of Medicine, Nursing, and Allied Health, Seventh Edition. © 2003 by Saunders, an imprint of Elsevier, Inc. All rights reserved.
pal·pe·bro·na·sal fold
[TA]

a fold of skin extending from the root of the nose to the medial termination of the eyebrow, overlapping the medial angle of the eye; its presence is normal in fetal life and in some Asians.

Farlex Partner Medical Dictionary © Farlex 2012
epicanthus
(ĕp′ĭ-kăn′thəs)
n.
pl.
epican·thi
(-thī, -thē)
The American Heritage® Medical Dictionary Copyright © 2007, 2004 by Houghton Mifflin Company. Published by Houghton Mifflin Company. All rights reserved.
epicanthus
A condition in which the margin of the upper eyelid curves round and downwards on the inner side so as to conceal the inner corner of the eye. Epicanthus is common in babies and may cause an illusory appearance of in-turning of the eye (convergent STRABISMUS).

Collins Dictionary of Medicine © Robert M. Youngson 2004, 2005
epicanthus
A condition in which a fold of skin that stretches from the upper to the lower eyelid partially covers the inner canthus. It is normal in the fetus, in Down's syndrome and in many infants, especially of oriental origin, where it may give the impression of a convergent strabismus (pseudoesotropia). The condition is normally bilateral. As the bridge of the nose develops, the folds eventually disappear. Syn. epicanthal fold. See apparent strabismus.
Millodot: Dictionary of Optometry and Visual Science, 7th edition. © 2009 Butterworth-Heinemann