endotoxin
Also found in:
Dictionary
,
Thesaurus
,
Encyclopedia
,
Wikipedia
.
endotoxin
[

en´do-tok″sin

]

a heat-stable toxin associated with the outer membranes of certain gram-negative bacteria, including

Brucella, Neisseria,

and

Vibrio

species. Endotoxins are not secreted but are released only when the cells are disrupted; they are less potent and less specific than the

exotoxins

; and they do not form

toxoids

. In large quantities they produce hemorrhagic shock and severe diarrhea; smaller amounts cause fever, altered resistance to bacterial infection, leukopenia followed by leukocytosis, and numerous other biologic effects.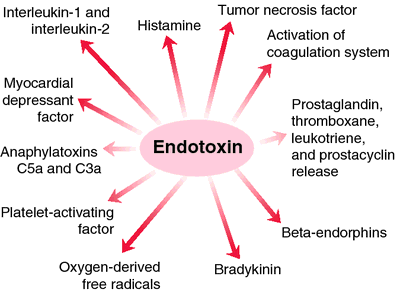 Miller-Keane Encyclopedia and Dictionary of Medicine, Nursing, and Allied Health, Seventh Edition. © 2003 by Saunders, an imprint of Elsevier, Inc. All rights reserved.
en·do·tox·in
(

en-dō-tok'sin

),

1. A bacterial toxin not freely liberated into the surrounding medium, in contrast to exotoxin.

2. The complex phospholipid-polysaccharide macromolecules that form an integral part of the outer membrane of a variety of relatively avirulent as well as virulent strains of gram-negative bacteria. The toxins are relatively heat stable, are less potent than most exotoxins, are less specific, and do not form toxoids; on injection, they may cause a state of shock and, in smaller doses, fever and leukopenia followed by leukocytosis; they have the capacity of eliciting the Shwartzman and the Sanarelli-Shwartzman phenomena.

Farlex Partner Medical Dictionary © Farlex 2012
endotoxin
(ĕn′dō-tŏk′sən)
n.
A toxin produced by certain bacteria and released upon destruction of the bacterial cell.
---
en′do·tox′ic adj.
The American Heritage® Medical Dictionary Copyright © 2007, 2004 by Houghton Mifflin Company. Published by Houghton Mifflin Company. All rights reserved.
endotoxin
Bacterial endotoxin, lipid A Microbiology A heat-stable lipopolysaccharide on the outer coat of gram-negative bacteria–eg, those causing cholera, meningitis, pneumonia, plague, whooping cough, et al Clinical Leukopenia, thrombocytopenia, fever, chills, hemorrhagic shock, dec resistance to infection

McGraw-Hill Concise Dictionary of Modern Medicine. © 2002 by The McGraw-Hill Companies, Inc.
en·do·tox·in
(

en'dō-tok'sin

)

1. A bacterial toxin not freely liberated into the surrounding medium, in contrast to exotoxin.

2.

The complex phospholipid-polysaccharide macromolecules that form an integral part of the cell wall of strains of gram-negative bacteria. The toxins may cause a state of shock accompanied by severe diarrhea, and, in smaller doses, fever and leukopenia followed by leukocytosis.

Synonym(s):

intracellular toxin

.

Medical Dictionary for the Health Professions and Nursing © Farlex 2012
endotoxin
A poisonous lipopolysaccharide formed in the cell wall of a GRAM-NEGATIVE bacterium by means of which the organism causes its damage to the host. Compare exotoxin.

Collins Dictionary of Medicine © Robert M. Youngson 2004, 2005
endotoxin
a poison that is produced by and remains inside a living CELL. It is only released upon disintegration of the organism. An example is the delta-endotoxin produced by the BACTERIUM Bacillus thuringiensis, and active against certain insect larvae. GENES for such toxins have been introduced into plants by GENETIC ENGINEERING with a view to conferring insect resistance upon them.

Collins Dictionary of Biology, 3rd ed. © W. G. Hale, V. A. Saunders, J. P. Margham 2005
en·do·tox·in
(

en'dō-tok'sin

)

1. A bacterial toxin not freely liberated into the surrounding medium.

2.

The complex phospholipid-polysaccharide macromolecules that form an integral part of the cell wall of strains of gram-negative bacteria; may cause shock, severe diarrhea, and fever.

Synonym(s):

intracellular toxin

.

Medical Dictionary for the Dental Professions © Farlex 2012