electrolyte
Also found in:
Dictionary
,
Thesaurus
,
Legal
,
Financial
,
Acronyms
,
Encyclopedia
,
Wikipedia
.
electrolyte
[

e-lek´tro-līt

]

a chemical substance that, when dissolved in water or melted, dissociates into electrically charged particles (

ions

) and thus is capable of conducting an electric current. The principal positively charged ions in the body fluids (

cations

) are

sodium

(Na

+

),

potassium

(K

+

),

calcium

(Ca

2+

), and

magnesium

(Mg

2+

). The most important negatively charged ions (

anions

) are

chloride

(Cl

−

),

bicarbonate

(HCO

3−

), and

phosphate

(PO

43−

). These electrolytes are involved in metabolic activities and are essential to the normal function of all cells. Concentration gradients of sodium and potassium across the cell membrane produce the

membrane

potential

and provide the means by which electrochemical impulses are transmitted in nerve and muscle fibers.ƒ

The concentration of the various electrolytes in body fluids is maintained within a narrow range. However, the optimal concentrations differ in the extracellular fluid and intracellular fluid. For example, the concentration of sodium in extracellular fluid (serum) is about 15 times higher than in the intracellular fluid. Conversely, the concentration of potassium is about 30 times higher within the cell than in the serum or extracellular fluid.

electrolyte imbalance

. This exists when the serum concentration of an electrolyte is either too high or too low. (See accompanying table.) The terms for excessive and deficient blood levels of electrolytes are derived from the Greek prefixes

hyper-

(over) and

hypo-

(under), the English or Latin name of the electrolyte, and the Latin suffix

-emia

. For example, an excess of sodium (Latin,

natrium

) cations in the serum is called

hypernatremia,

and a deficit of these ions is called

hyponatremia

.ƒ

Stability of the electrolyte balance depends on adequate intake of water and the electrolytes, and on homeostatic mechanisms within the body that regulate the absorption, distribution, and excretion of water and its dissolved particles. Many conditions can interfere with these processes and result in an imbalance. For example, renal disease, in which the kidney nephron is unable to function normally, causes a retention of water, sodium, chloride, bicarbonate, and calcium as the

glomerular filtration

rate

falls. Even when the kidney structures are intact, electrolyte imbalances can result from an inadequate supply of blood to the nephrons or from imbalances of regulatory hormones such as

aldosterone

and

antidiuretic

hormone

.

The effects of an electrolyte imbalance are not isolated to a particular organ or system. In general, however, imbalances in calcium concentrations affect the bones, kidney, and gastrointestinal tract. Calcium also influences the permeability of cell membranes and thereby regulates neuromuscular activity. Sodium affects the osmolality of blood and therefore influences blood volume and pressure and the retention or loss of interstitial fluid. Potassium affects muscular activities, notably those of the heart, intestines, and respiratory tract, and also affects neural stimulation of the skeletal muscles.

Assessment and nursing interventions related to electrolyte imbalance are shown in the accompanying table.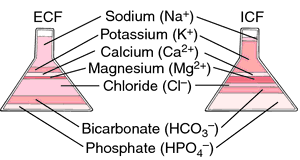 Miller-Keane Encyclopedia and Dictionary of Medicine, Nursing, and Allied Health, Seventh Edition. © 2003 by Saunders, an imprint of Elsevier, Inc. All rights reserved.
e·lec·tro·lyte
(

ē-lek'trō-līt

),

1. Any compound that, in solution or in molten form, conducts electricity and is decomposed (electrolyzed) by it.

2. An ionizable substance in solution.

[electro- + G. lytos, soluble]

Farlex Partner Medical Dictionary © Farlex 2012
electrolyte
(ĭ-lĕk′trə-līt′)
n.
1. A chemical compound that ionizes when dissolved or molten to produce an electrically conductive medium.
2. Physiology Any of various ions, such as sodium, potassium, or chloride, required by cells to regulate the electric charge and flow of water molecules across the cell membrane.
The American Heritage® Medical Dictionary Copyright © 2007, 2004 by Houghton Mifflin Company. Published by Houghton Mifflin Company. All rights reserved.
e·lec·tro·lyte
(

ĕ-lek'trō-līt

)

Any compound that, in solution, conducts electricity and is decomposed (electrolyzed) by it; an ionizable substance in solution.

Medical Dictionary for the Health Professions and Nursing © Farlex 2012
electrolyte
Any substance which, when dissolved in water, separates into pairs of particles (ions) of opposite charge. For example, sodium chloride (common salt) when dissolved in water forms positive ions of sodium and negative ions of chloride. The electrolytes include salts, acids, alkalis and metal oxides.

Collins Dictionary of Medicine © Robert M. Youngson 2004, 2005
Electrolyte
An ion, or weakly charged element, that conducts reactions and signals in the body. Examples of electrolytes are sodium and potassium ions.
Gale Encyclopedia of Medicine. Copyright 2008 The Gale Group, Inc. All rights reserved.
e·lec·tro·lyte
(

ĕ-lek'trō-līt

)

Any compound that, in solution, conducts electricity and is decomposed (electrolyzed) by it.

Medical Dictionary for the Dental Professions © Farlex 2012