digestive tract
Also found in:
Dictionary
,
Thesaurus
,
Financial
,
Encyclopedia
,
Wikipedia
.
tract
[

trakt

]

a longitudinal assemblage of tissues or organs, especially a number of anatomic structures arranged in series and serving a common function, such as the gastrointestinal or urinary tract; also used in reference to a

bundle

(or

fasciculus

) of nerve fibers having a common origin, function, and termination within the central nervous system.

biliary tract

the organs, ducts, and other structures that participate in secretion (the liver), storage (the gallbladder), and delivery (hepatic and bile ducts) of bile into the duodenum. See illustration.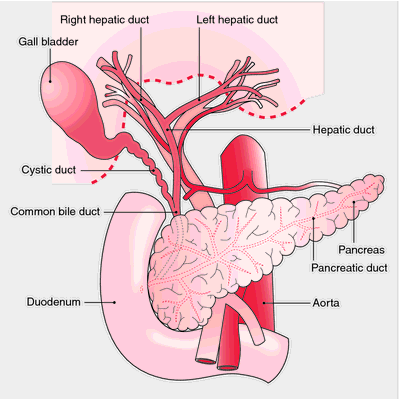 corticospinal t's two groups of nerve fibers (the anterior and lateral corticospinal tracts) that originate in the cerebral cortex and run through the spinal cord.
dorsolateral tract a group of nerve fibers in the lateral funiculus of the spinal cord dorsal to the posterior column.
gastrointestinal tract
the stomach and intestine in continuity; see also
digestive system
.
iliotibial tract a thickened longitudinal band of fascia lata extending from the tensor muscle downward to the lateral condyle of the tibia.
optic tract the nerve tract proceeding backward from the optic chiasm, around the cerebral peduncle, and dividing into a lateral and medial root, which end in the superior colliculus and lateral geniculate body, respectively.
pyramidal t's collections of motor nerve fibers arising in the brain and passing down through the spinal cord to motor cells in the anterior horns.
uveal tract the vascular tunic of the eye, comprising the choroid, ciliary body, and iris.
Miller-Keane Encyclopedia and Dictionary of Medicine, Nursing, and Allied Health, Seventh Edition. © 2003 by Saunders, an imprint of Elsevier, Inc. All rights reserved.
di·ges·tive tract
the passage leading from the mouth to the anus through the pharynx, esophagus, stomach, and intestine.
Farlex Partner Medical Dictionary © Farlex 2012
digestive tract
n.
The mucous membrane-lined tube of the digestive system through which food passes, in which digestion takes place, and from which wastes are eliminated. It extends from the mouth to the anus and includes the pharynx, esophagus, stomach, and intestines.
The American Heritage® Medical Dictionary Copyright © 2007, 2004 by Houghton Mifflin Company. Published by Houghton Mifflin Company. All rights reserved.
di·ges·tive tract
(

di-jes'tiv trakt

)

Medical Dictionary for the Health Professions and Nursing © Farlex 2012
Digestive tract
The organs that perform digestion, or changing of food into a form that can be absorbed by the body. They are the esophagus, stomach, small intestine, and large instestine.
Gale Encyclopedia of Medicine. Copyright 2008 The Gale Group, Inc. All rights reserved.
di·ges·tive tract
(

di-jes'tiv trakt

)

Passage from mouth to anus through pharynx, esophagus, stomach, and intestine.

Synonym(s):

alimentary tract

.

Medical Dictionary for the Dental Professions © Farlex 2012