developmental dysplasia of the hip
Also found in:
Dictionary
,
Thesaurus
,
Encyclopedia
.
dysplasia
[

dis-pla´zhah

]

an abnormality of development; in pathology, alteration in size, shape, and organization of adult cells. See also

dysgenesis

. adj.,

adj

dysplas´tic.

bronchopulmonary dysplasia chronic lung disease of premature infants with hyaline membrane disease who have needed high concentrations of oxygen and assisted ventilation. Factors related to its development include alveolar damage due to hyaline membrane disease, oxygen toxicity, positive pressure ventilation, and endotracheal intubation. Treatment includes supportive measures and oxygen therapy. Recovery and normal pulmonary function usually occur by the age of 6 months to 1 year; however, some infants may exhibit limited tolerance to exercise.

craniometaphyseal dysplasia

metaphyseal dysplasia associated with overgrowth of the head bones,

leonine

facies

, and increased distance between the eyes.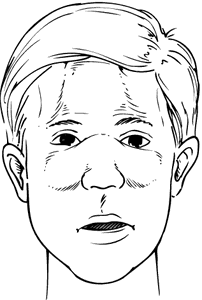 cretinoid dysplasia a developmental abnormality characteristic of cretinism, consisting of retarded ossification and smallness of the internal and reproductive organs.
developmental dysplasia of the hip
(DDH) instability of the hip joint leading to dislocation in the neonatal period. Although it may be associated with various neuromuscular disorders, such as myelodysplasia, or occur in utero, it most commonly occurs in neurologically normal infants and is multifactorial in origin. Usually there is laxity of the hip ligaments. Most affected infants are first-born children and 30 to 50 per cent present in the breech position. About 90 per cent of those affected are girls. The condition was formerly called
congenital dislocation of the hip
, but because the dislocation is not normally present at birth but develops later, the term developmental dysplasia of the hip is preferred.
ectodermal dysplasia
any of a group of hereditary disorders involving absence or deficiency of tissues and structures derived from the embryonic
ectoderm
, such as teeth, hair, nails, and certain glands.
fibromuscular dysplasia
dysplasia with fibrosis of the muscular layer of an artery wall, with collagen deposition and hyperplasia of smooth muscle, causing stenosis and hypertension. It most commonly occurs in the renal arteries and is a major cause of renovascular
hypertension
.
fibrous dysplasia of bone
thinning of the cortex of bone and replacement of bone marrow by gritty fibrous tissue containing bony spicules, causing pain, disability, and gradually increasing deformity; it may affect a single bone (monostotic fibrous dysplasia) or several or many bones (polyostotic fibrous dysplasia). When associated with melanotic pigmentation of the skin and endocrine disorders, it is known as
albright's syndrome
.
metaphyseal dysplasia a disturbance in enchondral bone growth, failure of modeling causing the ends of the shafts to remain larger than normal in circumference.
oculodentodigital dysplasia a rare hereditary condition, characterized by bilateral microphthalmos, abnormally small nose with anteverted nostrils, hypotrichosis, dental anomalies, camptodactyly, syndactyly, and missing phalanges of the toes.
renal dysplasia a congenital disorder of the kidney, with persistence of cartilage, undifferentiated mensenchyme, and immature collecting tubules, as well as with abnormal lobar organization and nearly always cysts; it may be unilateral or bilateral and total or subtotal. Total bilateral dysplasia is rapidly fatal in the neonatal period, while milder disease may be asymptomatic.
retinal dysplasia a general term for a congenital defect resulting from the abnormal growth and differentiation of a retina that fails to develop into functioning tissue.
Miller-Keane Encyclopedia and Dictionary of Medicine, Nursing, and Allied Health, Seventh Edition. © 2003 by Saunders, an imprint of Elsevier, Inc. All rights reserved.
dysplasia
(dis-pla'zh(e-)a) [ dys- + -plasia]
anal dysplasia
Anal intraepithelial neoplasia.
anhidrotic dysplasia
A congenital condition marked by absent or deficient sweat glands, intolerance of heat, and abnormal development of teeth and nails.
arrhythmogenic right ventricular dysplasia
Abbreviation: ARVD


A rare degenerative disease of desmosomes within heart muscle that may produce life-threatening cardiac arrhythmias. It is a cause of sudden death or ventricular tachycardia in athletes. The dysplasia is diagnosed by a combination of tests (specific angiographic, electrocardiographic, echocardiographic, MRI, and biopsy or necropsy criteria). Some forms of the disease are autosomal dominantly inherited. Synonym:

arrhythmogenic right ventricular cardiomyopathy

;

arrhythmogenic right ventricular dysplasia/cardiomyopathy
bronchopulmonary dysplasia
The need for supplemental oxygen in an infant born prematurely, esp. when that need is present after 36 weeks' gestation. Synonym:
chronic lung disease of the newborn
Patient care
A team approach is necessary to provide optimal inpatient and outpatient care to infants and their families. Educating the family about the disease, its treatment, and its prognosis are critical to providing optimal care to affected infants. Inpatient care emphasizes respiratory support for the infant, appropriate nutrition to support growth and development, and regular physical contact with parents to encourage bonding esp. during long, and emotionally taxing hospital stays. Enrolling the family in a follow-up program with supportive care for the infant is important to help the parents in the early months after hospital discharge. Educating the family about continuing care about follow-up appointments and therapies is essential. The care team addresses the nutritional, developmental, general medical and social services each infant and family need to promote optimal long-term development of the infant.
cervical dysplasia
Precancerous changes in the cells of the uterine cervix, typically obtained for cytological examination by brushing or scraping cells from the cervix during a Pap test or colposcopy. Changes found on the Papanicolaou test (Pap test) are called a squamous intraepithelial lesion (SIL) and are classified as low grade (LSIL), high grade (HSIL), or possibly malignant. When a biopsy of the cervix is performed, the dysplasia is called a cervical intraepithelial neoplasia (CIN) and is classified as CIN I-mild, CIN II-moderate, and CIN III-severe to carcinoma in situ.
chondroectodermal dysplasia
Ellis–van Creveld syndrome .
developmental dysplasia of the hip
Congenital dislocation of the hip.
ectodermal dysplasia
Any of a group of rare inherited disorders in which there are defects in the function or development of glands, hair, nails, or teeth, i.e., organs that originate embryologically in the ectoderm.
fibromuscular dysplasia
A dysplasia of the fibrous and muscular walls of an artery, resulting in impaired blood flow or stenosis. It is most often found in the renal arteries, esp. in young women as a cause of hypertension, or in the carotid arteries of adults.
fibrous dysplasia
A rare, nonheritable congenital bone disease characterized by disorganized alignment of collagen within bone and weak bone formation. Symptoms include bone pain, bone deformities, fractures, and neurological deficits. Some patients are also affected by endocrine disorders, such as diabetes mellitus, acromegaly, or hyperprolactinemia. There are two forms of the disease: monostotic fibrous dysplasia is a variant of the disease in which a single bony lesion is found; in polyostotic fibrous dysplasia, lesions are found in multiple bones, including long bones, facial and cranial bones, or other locations.
hereditary ectodermal dysplasia
A form of anhidrotic dysplasia marked by few or absent sweat glands and hair follicles, smooth shiny skin, abnormal or absent teeth, nail deformities, cataracts or corneal alterations, absence of mammary glands, a concave face, prominent eyebrows, conjunctivitis, deficient hair growth, and mental retardation.
Kniest dysplasia
See: Kniest dysplasia
McCusick metaphyseal dysplasia
See: McCusick metaphyseal dysplasia
monostotic fibrous dysplasia
Fibrous dysplasia that affects a single bone.
neuronal intestinal dysplasia
Abbreviation: NID


A disorder of bowel motility in which the innervation of the intestines is ectopic (the ganglions that provide nervous control of intestinal musculature being misplaced).
oculoauricular vertebral dysplasia
Hemifacial microsomia.
osteofibrous dysplasia
An extremely rare, benign bone tumor occurring in children under 10. The primary symptoms are painless swelling or bowing of bone. It usually develops in the tibia or fibula.
periapical cemento-osseous dysplasia
A benign, asymptomatic fibro-osseous lesion that develops at the apex of the anterior mandibular teeth. No treatment is necessary.
polyostotic fibrous dysplasia
Fibrous dysplasia affecting multiple bones, including, in some children, long bones as well as facial or cranial bones. See:
McCune-Albright syndrome
septo-optic dysplasia
A rare developmental disorder of the brain and eye in which the optic disk and septum pellucidum do not develop normally, resulting in blindness, hormonal deficiencies, learning disabilities, decreased muscular tone, and, occasionally, seizures.

Synonym: Morsier syndrome
thanatophoric dysplasia
Abbreviation: TD


An often lethal form of osteochondrodysplasia in which abnormalities of bone and cartilage development are accompanied by underdevelopment of the lungs. It is detectable in utero with prenatal ultrasound.

Medical Dictionary, © 2009 Farlex and Partners