dental implant
Also found in:
Dictionary
,
Thesaurus
,
Encyclopedia
,
Wikipedia
.
implant
1.
(im-plant´) to insert or graft material, such as tissue or radioactive material, into intact tissues or a body cavity; see also
transplant
.
2. (im´plant) any material inserted or grafted into the body.
dental implant
a prosthetic tooth with an anchoring structure surgically implanted beneath the mucosal or periosteal layer or in the bone.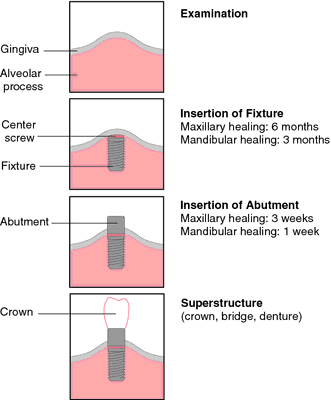 dental implant
n.
A prosthetic tooth that is anchored in the jawbone to replace a missing tooth.
dental implant
Osseointegrated implant Dentistry A prosthesis anchored in the maxilla or mandible, allowing subsequent placement of artificial teeth. See Cosmetic dentistry.
dental implant
In dentistry, a prosthetic device in any of several shapes. It is implanted into oral tissues beneath the mucosa or the periosteal layer, or within the bone to support or hold a fixed or removable prosthesis. Synonym:
tooth implant
See:
illustration
CAUTION!
Ultrasonic devices should not be used on dental implants.
den·tal im·plant
(

dentăl implant

)

The artificial replacement for a tooth root

See also:

dental implants

,

endosseous dental implant