delivery
Also found in:
Dictionary
,
Thesaurus
,
Legal
,
Financial
,
Acronyms
,
Idioms
,
Encyclopedia
,
Wikipedia
.
delivery
[

de-liv´er-e

]

1. the bringing of something to a place.

2.

expulsion or extraction of the child and fetal membranes at birth; see also

labor

. Called also

accouchement.

breech delivery

delivery of a fetus in breech presentation; see also

breech extraction

.

controlled drug delivery

a system used in dentistry that delivers an

antimicrobial agent

to the target site and maintains the desired concentration for enough time without development of resistant bacteria.

forceps delivery

extraction of a fetus from the maternal passages by application of forceps to the child's head. See illustration.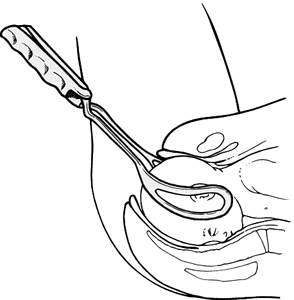 de·liv·er·y
(

dĕ-liv'ĕr-ē

),

Passage of the fetus and the placenta from the genital canal into the external world.
delivery
(dĭ-lĭv′ə-rē, -lĭv′rē)
n.
pl.
deliver·ies
The act of giving birth; parturition.
delivery
Obstetrics The passage of a fetus and placenta via the birth canal to the stage called life. See Breech delivery, Vaginal delivery, Vaginal delivery after cesarean section delivery, Vertex delivery Pharmacology The actual, constructive, or attempted transfer of any item regulated under a jurisdiction's controlled substance legislation. See Drug delivery Therapeutics See Drug delivery.
de·liv·er·y
(

dĕ-liv'ĕr-ē

)

Passage of the fetus and the placenta from the genital canal into the external world.
delivery
The process of being delivered of a child in childbirth.
Patient discussion about delivery
Q. how long does the delivery of the baby usually takes?
A. we waited almost 8 hours at the hospital...but the last part shouldn't take more then 40 minutes i guess..but i was so overwhelmed that i didn't look on the watch?
Q. What risk is it in a pre-delivery? let say couple of weeks before the due . and what is the earliest one can deliver with out harming the baby ?
A. I think just couple of weeks premature is not a major problems because the baby lungs is considered fully develop at 32 weeks and the survival rate is much greater than babies born before 24 weeks. Don't worry because the last part of the pregnancy is just weight gain of the fetus.
Q. How many women actually give birth on their EDD (expected delivery date)? I am pregnant and my EDD is January 22nd. I was wondering what are the chances I will give birth on that day exactly?
A. If it's your first pregnancy, you probably will give birth after your EDD, as first pregnancies tend to be longer. Your EDD is after a full 40 weeks of pregnancy. It is most common to give birth between 38- 42 weeks of pregnancy.
More discussions about delivery