deglutition
Also found in:
Dictionary
,
Thesaurus
,
Encyclopedia
,
Wikipedia
.
deglutition
[

deg″loo-tish´un

]

swallowing.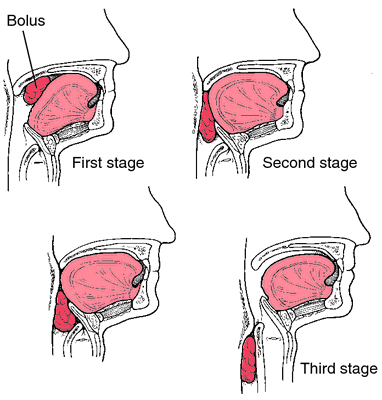 de·glu·ti·tion
(

dē'glū-tish'ŭn

),

The act of swallowing.

[L. de-glutio, to swallow]
deglutition
/de·glu·ti·tion/ (

de″gloo-tish´un

) swallowing.
deglutition
(dē′glo͞o-tĭsh′ən)
n.
The act or process of swallowing.
---
de·glu′ti·to′ry
(-tĭ-tôr′ē)
adj.
deglutition
[di′glo̅o̅tish′ən]
Etymology: L, deglutire, to swallow
de·glu·ti·tion
(

dē-glū-tish'ŭn

)

The act of swallowing.

[L. de-glutio, to swallow]
deglutition
the act of swallowing which is brought about by a complex series of reflexes initiated by stimulation of the pharynx.
de·glu·ti·tion
(

dē-glū-tish'ŭn

)

The act of swallowing.

[L. de-glutio, to swallow]
deglutition
(dē´glootish´ən)

,

n (swallowing), a succession of muscular contractions from above downward or from the front backward; propels food from the oral cavity toward the stomach. The action is generally initiated at the lips; it proceeds back through the oral cavity, and the food is moved automatically along the dorsum of the tongue. When the food is ready for swallowing, it is passed back through the fauces. Once the food is beyond the fauces and in the pharynx, the soft palate closes off the nasopharynx, and the hyoid bone and larynx are elevated upward and forward. This action keeps food out of the larynx and dilates the esophageal opening so that the food may be passed quickly toward the stomach by peristaltic contractions. The separation between the voluntary and involuntary characteristics of this wave of contractions is not sharply defined. At birth the process is already well established as a highly coordinated activity, i.e., the swallowing reflex.
deglutition
the act of swallowing. There are differences in the mechanism between birds and mammals. Most birds cannot swallow without raising their heads.
Patient discussion about deglutition
Q. Is it dangerous to swallow a bubble gum? My 4 year old child always swallows his chewing gum and I am worried that it can harm him
A. what about when your 45 yrs old and still swallowing gum? we had a debate with my older sister about this.
Q. Why is it hard to swallow when you have a sore throat? I was sick last week. I had a sore throat pain in my neck and fever. the most annoying symptom that i had was pain during sallowing. what is the source of that pain, and what can I do to ease it next time?
A. When you have an inflammation in your body, the sick area hurts when its palpated. when your neck is inflamed, you have a pain in the neck. when the inside part of the neck is inflamed you have tonsillitis.
When you eat something, it touches your inside of the neck, and if it's inflamed it will be painful.
The good news is that you can treat this pain in the same way you treat other inflammatory pain - hot (NOT boiling) tea.
Q. mouth ulcer and difficulty to swallow, below right side of inner tongue guggle salt water and vinigar dose'nt help
A. how big is it? mouth ulcers has a reason why they happen. sometimes a broken tooth, biting a sharp metal, a prosthetic that doesn't sit well..that sort of things. but sometimes it is caused by other stuff. any way, oral hygiene may relieve some of the symptoms. Topical (rubbed on) antihistamines, antacids, corticosteroids, or other soothing preparations may be recommended for applying on top of the ulcer. Avoid hot or spicy foods.
More discussions about deglutition