cryptomerorachischisis
Also found in:
Dictionary
,
Encyclopedia
.
spina
[

spi´nah

] (L.)

spina bi´fida ante´rior a defect of closure on the anterior surface of the bony spinal canal, often associated with defective development of the abdominal or thoracic viscera.

spina bi´fida cys´tica

spina bifida in which there is protrusion through the defect of a cystic swelling that contains the meninges (

meningocele

) or the meninges and spinal cord (

meningomyelocele

).

spina bi´fida occul´ta

spina bifida in which there is a defect in the bony spinal canal without protrusion of the cord or meninges.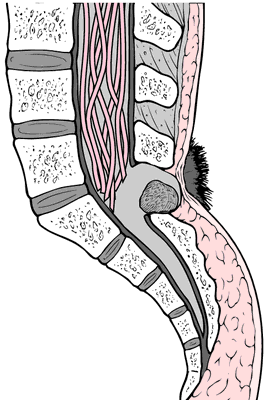 spina vento´sa dactylitis of the bones of the hands or feet, occurring mostly in infants and children, with enlargement of digits, caseation, sequestration, and sinus formation.
cryptomerorachischisis
(krĭp″tō-mē″rō-ră-kĭs′kĭ-sĭs) [″ + meros, part, + rhachis, spine, + schisis, a splitting]

Spina bifida occulta without a tumor but with bony deficiency.