coronary occlusion
Also found in:
Dictionary
,
Thesaurus
,
Encyclopedia
,
Wikipedia
.
coronary
[

kor´ah-nar-e

]

encircling in the manner of a crown; said of anatomical structures such as vessels, ligaments, or nerves.

coronary arteries

two large arteries that branch from the ascending aorta and supply all of the heart muscle with blood (see also table of

arteries

).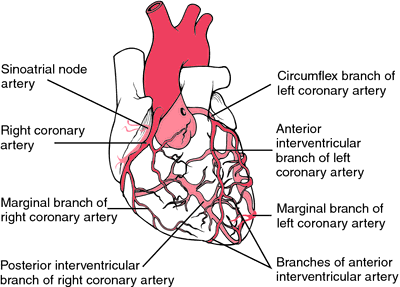 coronary artery disease (CAD) atherosclerosis of the coronary arteries, which may cause angina pectoris, myocardial infarction, and sudden death. Both genetically determined and avoidable risk factors contribute to the disease; they include hypercholesterolemia, hypertension, smoking, diabetes mellitus, and low levels of high density lipoproteins (HDL).
coronary occlusion
the occlusion, or closing off, of a coronary artery, usually caused by a narrowing of the lumen of the blood vessels by the plaques of
atherosclerosis
. Sometimes a plaque may rupture and release vasoactive or thrombogenic substances that lead to clot formation. If there is adequate collateral circulation to the heart muscle at the time of the occlusion, there may be little or no damage to the myocardial cells. When occlusion is complete, however, with no blood being supplied to an area of the myocardium,
myocardial infarction
results.
---
occlusion
[

ŏ-kloo´zhun

]

2. the trapping of a liquid or gas within cavities in a solid or on its surface.

3. the relation of the teeth of both jaws when in functional contact during activity of the mandible.

4.

momentary complete closure of some area in the vocal tract, causing breathing to stop and pressure to accumulate.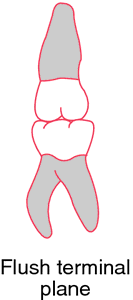 central occlusion (centric occlusion) occlusion of the teeth when the mandible is in centric relation to the maxilla, with full occlusal surface contact of the upper and lower teeth in habitual occlusion.
eccentric occlusion occlusion of the teeth when the lower jaw has moved from the centric position.
functional occlusion contact of the maxillary and mandibular teeth that provides the highest efficiency in the centric position and during all exclusive movements of the jaw that are essential to mastication without producing trauma.
Miller-Keane Encyclopedia and Dictionary of Medicine, Nursing, and Allied Health, Seventh Edition. © 2003 by Saunders, an imprint of Elsevier, Inc. All rights reserved.
cor·o·nar·y oc·clu·sion
blockage of a coronary vessel, usually by thrombosis or atheroma, often leading to myocardial infarction.
Farlex Partner Medical Dictionary © Farlex 2012
coronary occlusion
n.
The partial or complete obstruction of blood flow in a coronary artery, as by a thrombus or the progressive buildup of atherosclerotic plaque.
The American Heritage® Medical Dictionary Copyright © 2007, 2004 by Houghton Mifflin Company. Published by Houghton Mifflin Company. All rights reserved.
cor·o·nar·y oc·clu·sion
(

kōr'ŏ-nār-ē ŏ-klū'zhŭn

)

Blockage of a coronary vessel, usually by thrombosis or atheroma, often leading to myocardial infarction.

Medical Dictionary for the Health Professions and Nursing © Farlex 2012
coronary occlusion
See: myocardial infarction; illustration

Medical Dictionary, © 2009 Farlex and Partners
coronary occlusion
Complete obstruction of blood flow in a CORONARY artery.

Collins Dictionary of Medicine © Robert M. Youngson 2004, 2005
cor·o·nar·y oc·clu·sion
(

kōr'ŏ-nār-ē ŏ-klū'zhŭn

)

Blockage of a coronary vessel.

Medical Dictionary for the Dental Professions © Farlex 2012