coarctation
(redirected from coarctations)
Also found in:
Dictionary
,
Thesaurus
,
Encyclopedia
.
coarctation
[

ko″ahrk-ta´shun

]

coarctation of aorta

a

congenital heart defect

consisting of localized deformity of the

tunica media

of the aorta, causing narrowing (usually severe) of the lumen of the vessel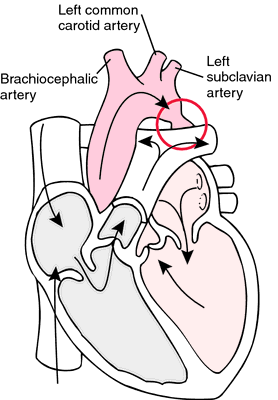 .
Miller-Keane Encyclopedia and Dictionary of Medicine, Nursing, and Allied Health, Seventh Edition. © 2003 by Saunders, an imprint of Elsevier, Inc. All rights reserved.
co·arc·ta·tion
(

kō'ark-tā'shŭn

),

A constriction, stricture, or stenosis.

Farlex Partner Medical Dictionary © Farlex 2012
coarctation
(kō′ärk-tā′shən)
n.
A narrowing or constricting, especially of the aorta or of a blood vessel.
The American Heritage® Medical Dictionary Copyright © 2007, 2004 by Houghton Mifflin Company. Published by Houghton Mifflin Company. All rights reserved.
coarctation
A stricture or point of contraction. See Aortic coarctation.

McGraw-Hill Concise Dictionary of Modern Medicine. © 2002 by The McGraw-Hill Companies, Inc.
co·arc·ta·tion
(

kō'ahrk-tā'shŭn

)

A constriction, stricture, or stenosis, particularly of the aorta.

Medical Dictionary for the Health Professions and Nursing © Farlex 2012
coarctation
A constriction or narrowing, especially of a blood vessel.

Collins Dictionary of Medicine © Robert M. Youngson 2004, 2005