claw toe
Also found in:
Dictionary
,
Thesaurus
,
Encyclopedia
.
toe
[

to

]

a digit of the foot.

claw toe a toe deformity seen in many patients with rheumatoid arthritis, consisting of dorsal subluxation of toes 2 through 5; the metatarsal heads bear weight and become painful during walking so that the patient has a shuffling gait.

hammer toe

deformity of a toe in which the proximal phalanx is extended and the second and distal phalanges are flexed, causing a clawlike appearance; it most often affects the second toe.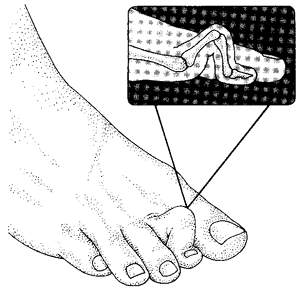 pigeon toe
a permanent toeing-in position of the feet; severe cases are considered a form of
clubfoot (talipes)
.
webbed t's
syndactyly
of the toes abnormally joined by strands of tissue at their base.
Miller-Keane Encyclopedia and Dictionary of Medicine, Nursing, and Allied Health, Seventh Edition. © 2003 by Saunders, an imprint of Elsevier, Inc. All rights reserved.
claw toe
hyperextension and subluxation of a metatarsophalangeal joint, with flexion deformity of the interphalangeal joints and transfer of weight-bearing to the metatarsal head; may be due to neuropathy, muscle imbalance, or joint disease, and typically affects all toes except the first; often causes pain, impairment of gait, and callus formation.
Farlex Partner Medical Dictionary © Farlex 2012
A deformity characterised by metatarsophalangeal joint hyperextension and interphalangeal joint flexion, usually associated with neuropathic conditions—e.g., Friedrich's ataxia, poliomyelitis, and spinal cord injury—which may be inherited
Management Conservative, tendon resection, joint resection

Segen's Medical Dictionary. © 2012 Farlex, Inc. All rights reserved.
claw toe
(

klaw tō

)

Hyperextension and subluxation of a metatarsophalangeal joint, with flexion deformity of the interphalangeal joints and transfer of weight-bearing to the metatarsal head.

Medical Dictionary for the Health Professions and Nursing © Farlex 2012