chiasm
Also found in:
Dictionary
,
Thesaurus
,
Encyclopedia
,
Wikipedia
.
chiasm
[

ki´azm

]

a decussation or X-shaped crossing.

optic chiasm

a structure in the forebrain formed by the decussation of fibers of the optic nerve from each half of each retina.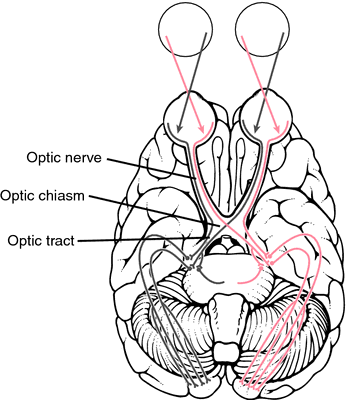 Miller-Keane Encyclopedia and Dictionary of Medicine, Nursing, and Allied Health, Seventh Edition. © 2003 by Saunders, an imprint of Elsevier, Inc. All rights reserved.
chi·asm
(

kī'azm

),

1. An intersection or crossing of two lines.

2. In anatomy, a decussation or crossing of two fibrous bundles, such as tendons, nerves, or tracts.

3. In cytogenetics, the site at which two homologous chromosomes make contact (thus appearing to be crossed), enabling the exchange of genetic material during the prophase stage of meiosis.

[G. chiasma]

Farlex Partner Medical Dictionary © Farlex 2012
chi·asm
(

kīazm

)

1. An intersection or crossing of two lines.

2.

anatomy

a decussation or crossing of two fibrous bundles, such as tendons, nerves, or tracts.

Synonym(s):

chiasma

.

3.

cytogenetics

the site at which two homologous chromosomes make contact (thus appearing to be crossed), enabling the exchange of genetic material during the prophase stage of meiosis.

Synonym(s):

Budd syndrome

.

[G. chiasma]

Medical Dictionary for the Health Professions and Nursing © Farlex 2012
chi·asm
, chiasma (

kīazm, kī-azmă

)

In anatomy, decussation or crossing of two fibrous bundles, such as tendons, nerves, or tracts.

[G. chiasma]

Medical Dictionary for the Dental Professions © Farlex 2012